What is The Purpose and Use of A Watermark?
There are several reasons why a watermark is placed on digital and printed documents:
Identification of the owner of the document
It can be the name of the company or its logo. Identification with a watermark PDF is needed to protect copyrights, as well as increase the influence of the company and increase its recognition.
One of the functions of a watermark is to declare ownership of a document and protect it from copyright infringement.
Document classification
For example, some companies label letterheads or certain types of documents as "Confidential" or "Original". This classification allows you to establish a workflow, track specific documents and avoid fakes. Another function of watermark classification is to tell the recipient how to handle the document.
Protection of your information from unauthorized copying
How does it work? Even if someone sends a watermarked PDF document without your permission, a special character will show who owns it. This will help you identify who allowed important information to fall into the wrong hands. In addition, the watermark PDF will immediately show the recipient that it is not worth sending such a file to other people.
Any intellectual property (such as documents, drawings, work files) must claim the ownership with a PDF watermark. If you place a custom watermark with your logo and text correctly, no one will be able to remove it or crop it.
After all, any breach of security and confidentiality can be a disaster for the company. Leakage of any information can damage the reputation of the organization or lead to financial losses. Someone can use the obtained data against the firm.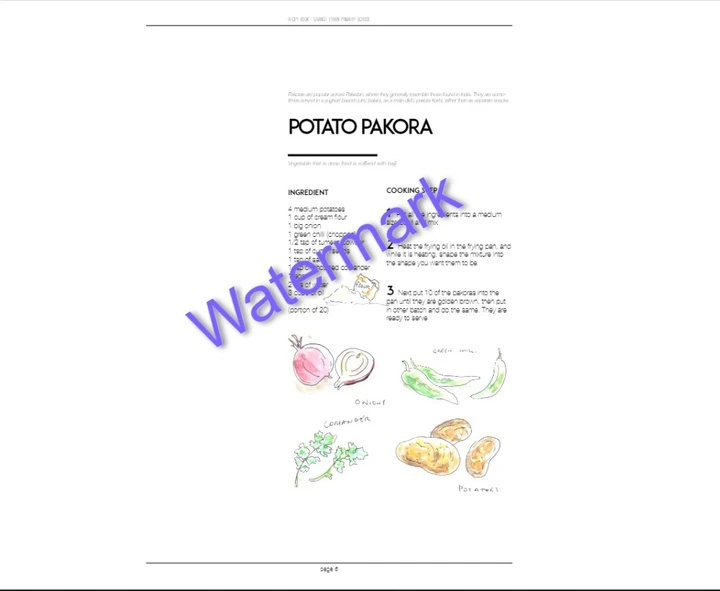 What are the Types of Watermarks?
What should a watermark PDF look like? There is no single format. Each company can create and apply on documents the symbol that the task requires.
Adding Watermark in PDF could be like this:
A text. This option is suitable when you need to classify documents or convey certain information to the reader.
A symbol or an image. A text message or something that contains a PDF file can be supplemented with a watermark with a special character. For example, many real estate agencies add a house icon to indicate their line of business.
A logo. It is one of the best options for company identification and marketing. With the help of the logo on the documents, the company strengthens its position among the recipients of the files.
Digital documents can be tagged with an email address, contact information, and more. It depends on the purpose of using a watermark in PDF.
How to Add Watermark PDF in Watermarkly
Adding a PDF watermark is easy if you choose the right tool. For example, Watermarkly offers you to create and apply a watermark quickly, easily, and conveniently.
Our app allows you to work with files online and for free with optional paid options. You can add a watermark PDF directly on the site– for this, at the top of the page, there is a window for uploading files.
The process for creating a watermark is as follows:
1. Open the folder with the desired files on your computer and drag them to the editor window or click "Select PDF" to upload documents from a computer or in another convenient way. It can be Google Photo or Google Drive, or Dropbox. Please note that to upload files, you will need to log into your account in the selected storage and provide access to your documents.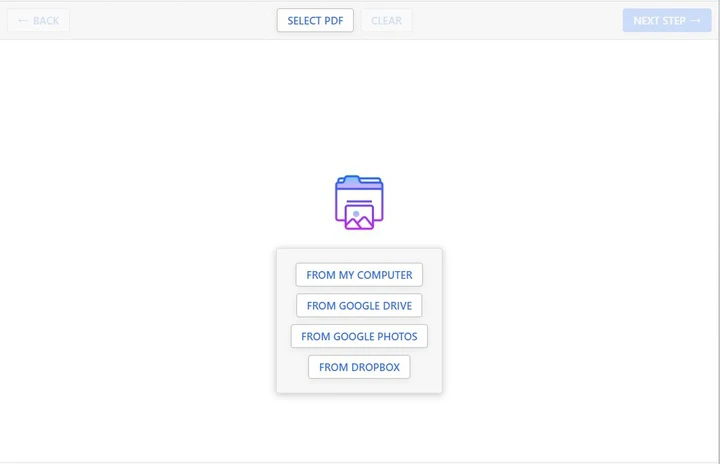 You can select several files at once for loading into the Watermarkly App and further work with them. The free version allows you to upload up to 10 files.
2. Click the Next Step button to move to the following stage.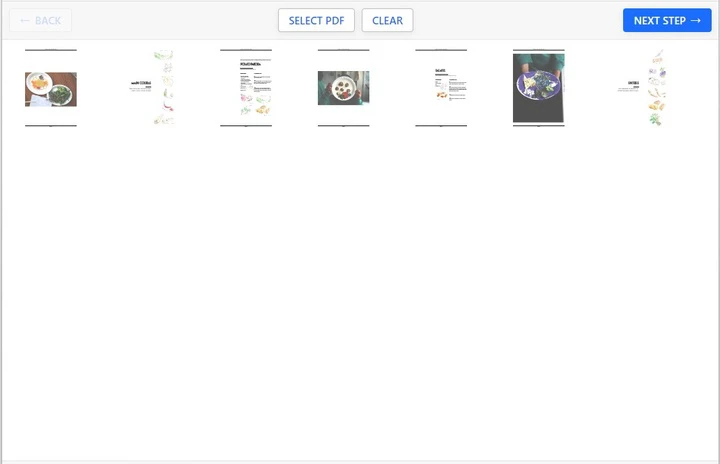 3. Get started on creating a watermark for PDF - it's a straightforward process that will not cause you any difficulties:
ADD Text / ADD Logo. If you have a logo but it doesn't have a transparent background, don't hesitate to use it. Our platform allows you to remove the background when uploading a logo.
Create a watermark PDF using the editor's options, in which you can change: font, color, size, placement format, transparency level, and effects.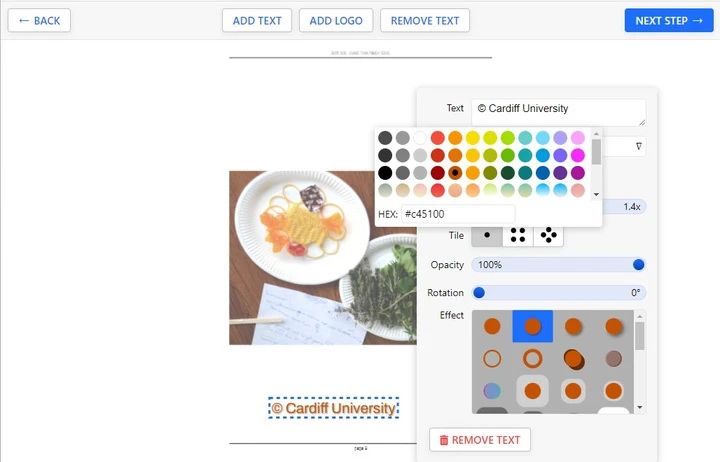 If you don't have a logo, but you are not going to apply text, choose symbols from our logo gallery. To do this, click ADD Logo and select "From Gallery". There are over 50 symbols and elements that can form the basis of your watermark PDF.
4. Click the Next step to go to the saving settings and upload the finished watermark PDF file to your computer or cloud storage.
5. If you uploaded several documents at the same time, the system will prompt you to preview how the watermark looks on each individual document because it is added automatically to all files. If it seems to you that the watermark to PDF is placed incorrectly on one document, you can fix it without affecting other files.
By default, the Watermarkly app scales watermarks to fit images. You can disable this option.
Our web application is available to all users for free. If you use it, then when saving, the entry "Protected with Watermarkly" will be added to the picture. If you don't need it, buy the full version of the app, which allows you to add more than 10 files and removes the template label on save.
Why You Should Choose Watermarkly for Adding a Watermark to PDF
You can safely choose our App for watermarking PDFs because of the following advantages:
Working at Watermarkly is safe. The application is available online, so the user does not need to download files to the computer/phone and install them. In addition, all uploaded files remain the property of the owner. We do not store documents on our server, no one can access them.
Watermark PDF can be customized. We provide a convenient editor for correcting text, and a logo to be used as a watermark. You can change the color, increase or decrease the size, add effects, change the font, and more.
You can add a watermark PDF to several files at once. The free version of the application allows the simultaneous processing of 10 documents at once. After creating a watermark, the user can see how it looks on each file. If necessary, it will be possible to change the symbol settings on a specific document if it interferes with reading information or looks ugly.
Our server saves the watermark PDF templates. This means that the user will be able to use them even after a while if a certain watermark needs to be replaced on new documents. Templates are very convenient because you don't waste time developing them again.
You can work with the application on a device with any operating system. You can add a watermark PDF from your mobile phone, tablet, computer, or laptop – it doesn't matter. Also, your operating system does not matter. It can be Windows, Linux, IOS, or Android. All you need to use the app is a browser and an internet connection.
Watermarkly App integrates with Google Drive, Google Photos, and Dropbox. So you don't have to download files to your phone or computer storage to add a watermark PDF. Everything will go faster and easier.
Tips on How to Insert Watermarks in PDFs
Here are some useful tips for adding a watermark online:
The transparency level should not be too low.
Of course, the special character should not interfere with reading information from the document. But it should not be so transparent that no one will notice it. When setting transparency, you should take into account the file itself – what information it contains. If text information in the document is extremely important, make the symbol more transparent.
You need to choose the right positioning.
A small, barely noticeable watermark in a PDF will not provide privacy protection or help identify what the document belongs to. The symbol should be large, occupying most of the document. No need to place it on areas with a solid background because every other user can delete your custom special symbol through any graphic editor. The same applies to places in the picture that can be cropped without damaging the information in the file.
If you can't add a watermark to most of your documents, do it in a place where even a professional can't remove it. Only in this way, you will protect your files from theft or accurately convey the right idea thanks to a watermark.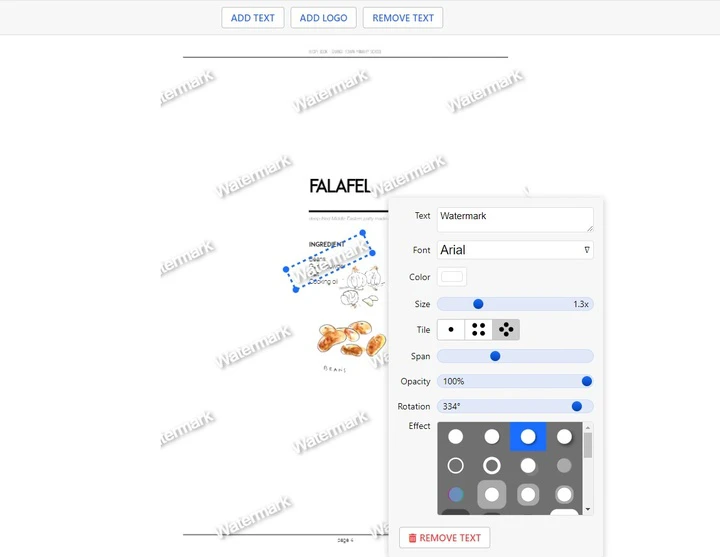 Frequently Asked Questions About Watermark PDF
Our team has prepared answers to popular questions regarding watermark PDF.
What color should the PDF watermark be?
The watermark can be made in absolutely any color of your choice. Of course, you need to take into account that in important documents, too bright characters will look out of place. The color also depends on the background of the picture. If it is white, then you should not use a white watermark – it will be invisible. It is better to leave a tone close to the main color palette of the file so that the watermark does not violate the overall concept of the image.
What can be done to prevent PDF file theft?
One of the best ways to protect your documents from being stolen and sent to other people under someone else's name is to add a watermark. For example, in the form of a company logo or the email of the person who owns the file. In this case, the owner of the document will be immediately visible, and no one will be able to steal it to use it for their purposes.
What is a visible watermark?
A visible watermark is a special mark on images, photos, and files. With the help of such a symbol, an email address, contact information, company logo, QR code, tags, text information, and more are applied to the file. The task of a visible sign is to convey certain data to the recipient.
What does a watermark PDF do?
A word or logo with a certain degree of transparency on PDF documents helps protect them from theft, copyright infringement, identifying or indicating their specific purpose. The purpose of using a symbol can be different.
How to create a permanent watermark PDF?
With our Watermarkly online application, you can watermark PDF files that no one can remove even with the help of artificial intelligence. We offer a simple application that does not require graphic editors to work. All actions are step-by-step, clear, and simple. You just need to upload files (up to 10 in the free version), create the desired sign (text or upload a logo), and check how the sign looks on all uploaded files. And that's all. The last step is to download the files to your computer.
What is the purpose of a watermark PDF?
First of all, watermarks help protect confidential information in PDF files. If important data is lost, the company may face losses or more serious problems. Another purpose of a PDF watermark is to indicate that a file belongs to a certain category. For example, the text "Copy" or "Original" is often added to indicate a form or document and not be confused when working.
How to make sure the watermark PDF can't be removed?
If you've watermarked a large PDF and it covers text or graphics, it will be difficult to remove it even with a professional program. When deleting fragments, the text placed on the file will be affected, which will make any changes in the document noticeable. With Watermarkly, you don't have to worry about file copy protection.
Which PDF files can be watermarked?
You can work with PDF files, regardless of their purpose. These can be financial reports, legal contracts, educational materials, marketing papers, electronic publications, and more.
Additional Features of the Watermarkly App
We are glad to inform you that on our site you can not only add a watermark PDF. Our platform also allows you to work with files of other common formats: JPEG, PNG, GIF.
In addition to the tool for creating and adding a watermark, the site has other functions for working with images:
Each tool works quickly and does not depend on the other. Therefore, if you just need to crop a photo, you can do it in a few minutes. There is no need to register on the platform – just choose the right tool and work.
Add watermark PDFs and keep them safe with Watermarkly! Work with files of any format at any time convenient for you from your computer or phone.