How to add watermark to PDF. Watermarkly vs Adobe Acrobat
Adobe Acrobat is by far the most well-known software for editing PDFs. It offers a full range of tools for creating PDF files from a variety of formats, editing them, and storing them in different variations.
Using the app, you can merge the documents into one and rotate, resize, crop, or split them. For users who manage PDFs frequently and often need to adjust the content, Adobe Acrobat may indeed be one of the logical solutions, along with other alternative editors.
However, if you don't need to edit the PDF, you only want to add a watermark to it, and you've never used Adobe Acrobat before, the choice of software is not so obvious.
It is easy to become overwhelmed with Acrobat's toolkit. You might need to read an instruction manual or watch a YouTube tutorial before you even start using the editor. Moreover, payment for a Creative Cloud subscription will be required.
All these obstacles can be avoided by choosing a simpler, cheaper, and more user-friendly online application to watermark a PDF, such as Watermarkly. You will master it within minutes, even if you don't have any editing skills and are not familiar with any other PDF editor.
Let's take a step-by-step look at the differences between these two applications and which one is more convenient for the inexperienced user.
Add watermark to PDF
In order to add watermark to PDF in Adobe Acrobat and start editing it, you need to do the following:
open your document in the app;
select the "Tools" button;
choose "Edit PDF";
click on the "Watermark" button;
select "Add watermark".
That is five different clicks just to create a new watermark. The same number of steps for updating a watermark or for removing it.
In comparison, only one click is needed in Watermarkly. Once your PDFs are uploaded, select "Next Step" and you are at the editing step.
Very simple, right?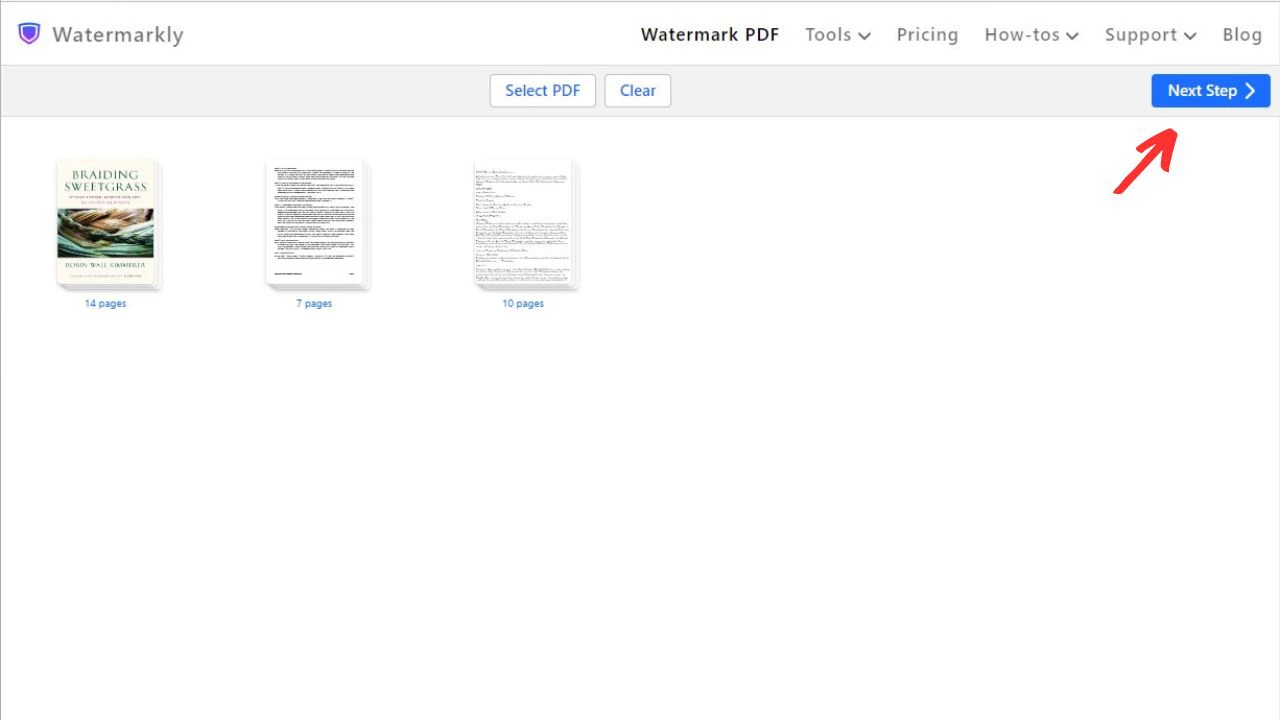 Design a watermark for a PDF
Watermarkly has almost the same set of options for creating a custom watermark as Adobe Acrobat. Both the text and logo can be changed however you want. You can pick a different color or font, make it smaller or bigger, adjust the position, rotate, or change the opacity.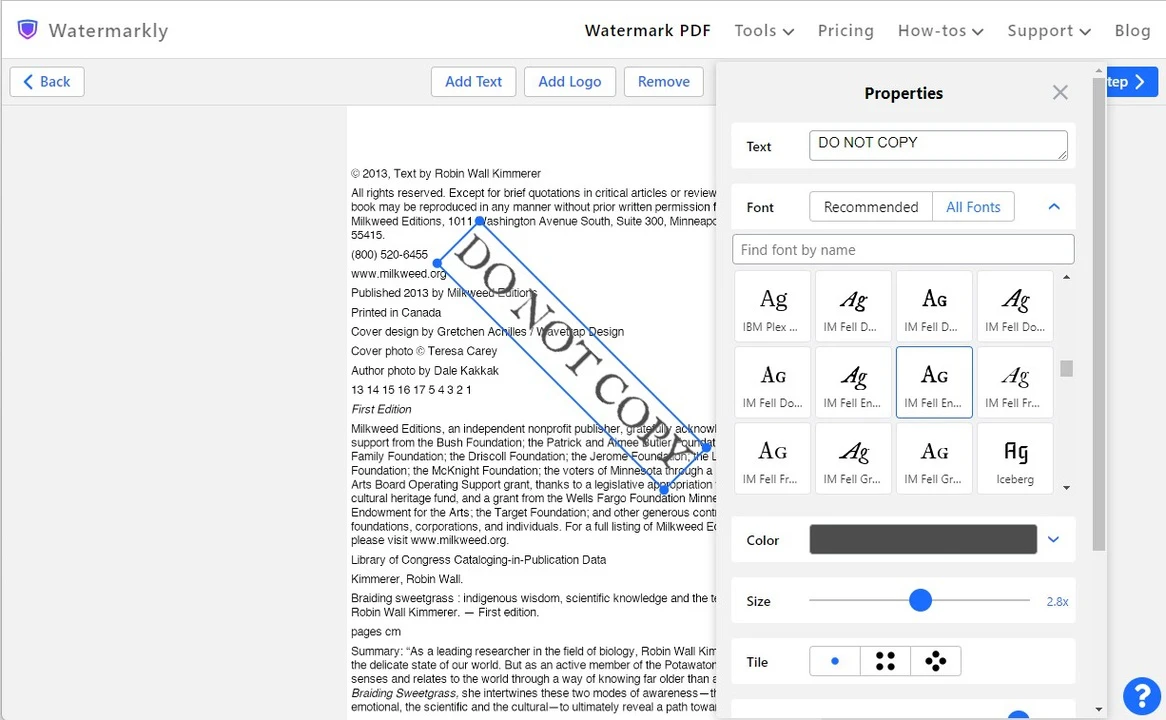 If you add a multiline text, you can adjust its alignment in both Adobe Acrobat and Watermarkly. Adobe allows you to underline the text. However, Watermarkly allows you to add a copyright symbol or number to your textual watermark.
The size correction method is different in each app. In Adobe Acrobat, you need to enter a number in the Size option for text, or a percentage in the Absolute Scale option for an image watermark.
Watermarkly allows you to change the size by moving the slider in the Settings box or by dragging the corner of the watermark. This way, you will be able to get the desired result faster.
The same goes for editing the position of the text or image. Adobe Acrobat asks you to select a number and adjust the vertical and horizontal position of the watermark by inches, percent, centimeters, millimeters, picas, or points. In Watermarkly, you just move it to the place you need.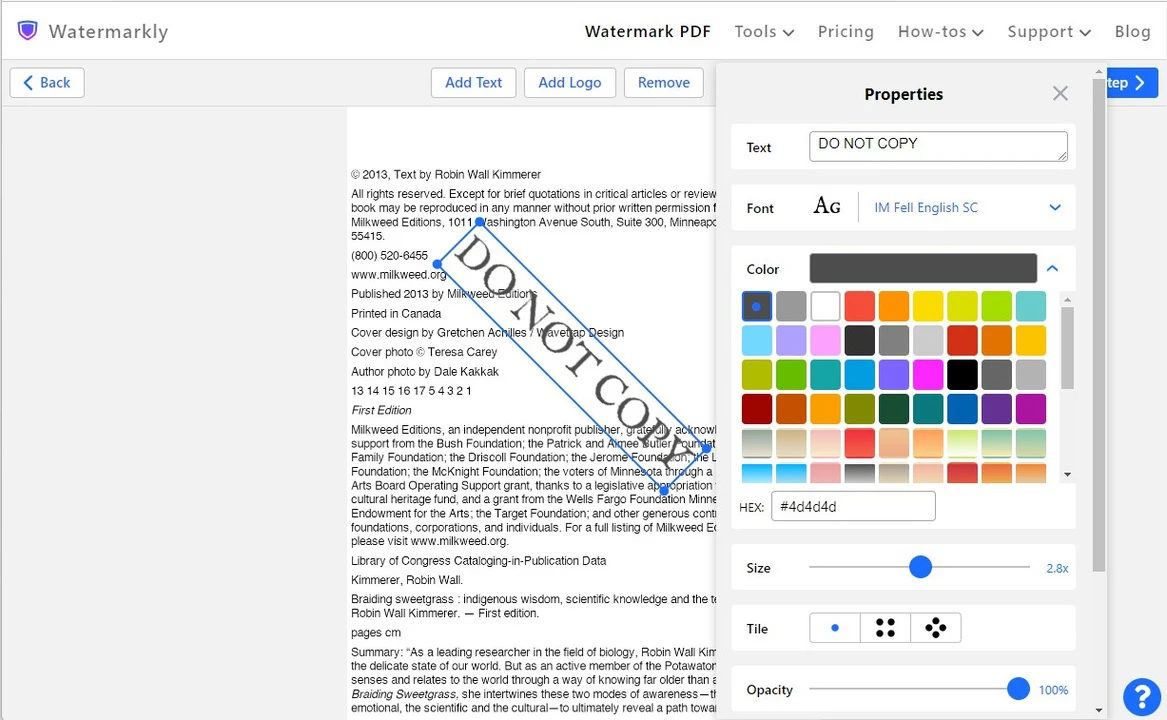 Both Watermarkly and Adobe Acrobat scale a watermark relative to the target page.
In Watermarkly, you can also use more than 30 additional effects that will make your watermark more eye-catching.
Add an image or logo to a PDF
Adobe Acrobat doesn't support the PNG format. So be sure that your images are JPEG or BMP.
With Watermarkly, you don't need to worry about this. All formats are accepted.
Additional options
Both Watermarkly and Adobe Acrobat allow you to place the watermark below the text.
Both Watermarkly and Adobe Acrobat have a Page Range option, so you can decide which pages to watermark.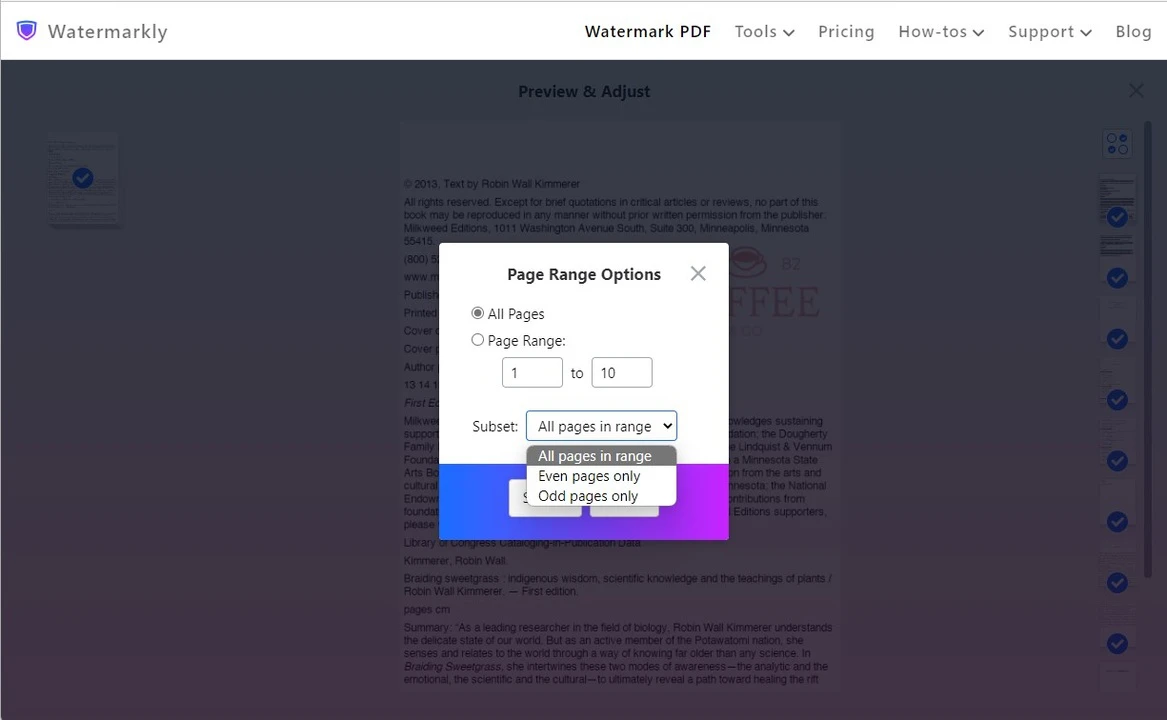 Add watermark to multiple PDFs
It is possible to add watermark to multiple PDFs in both Watermarkly and Adobe Acrobat. But there is one difference. Adobe Acrobat allows you to customize your watermark in one document and then select more files that should be watermarked in the same way.
Watermarkly allows you to upload all the PDF files at the beginning.
Once the editing is done, you can go to the Preview section and check how the watermarks look on each page of the document.
You can adjust the color, opacity, size, rotation, and position of the watermark if necessary. This is extremely convenient if, for example, you want to place your watermarks in distinct positions on different pages of the file.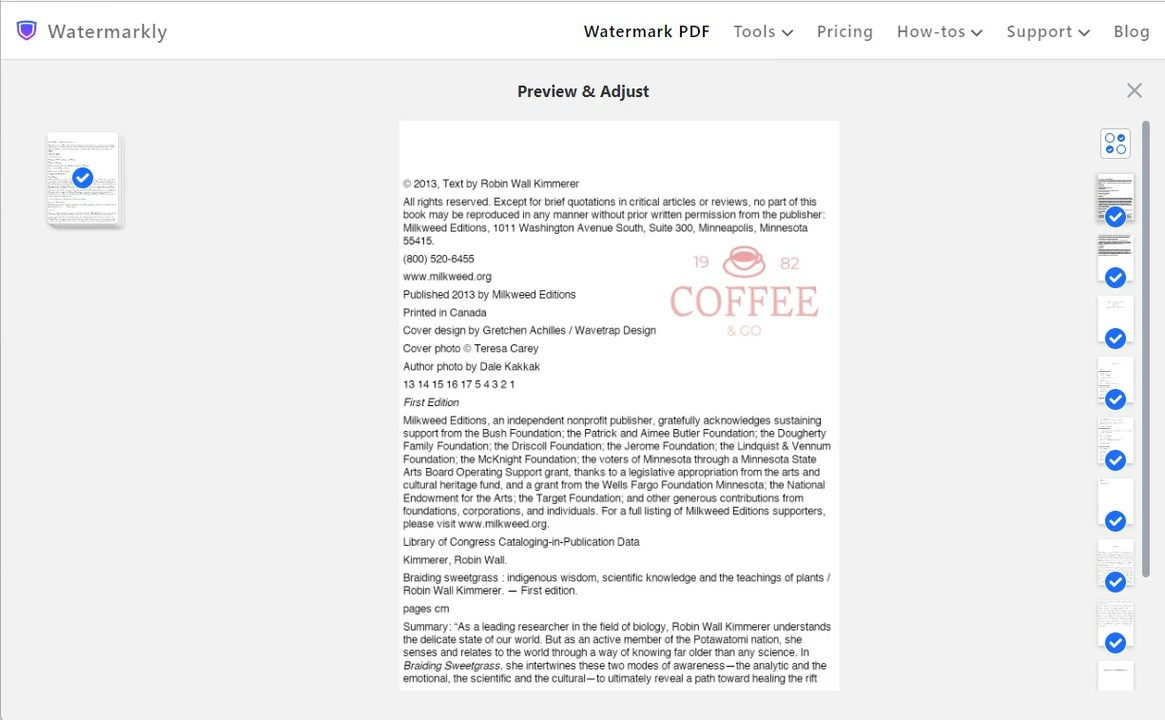 Price
You have to pay US$19.99 per month for using Adobe Acrobat Pro. It is quite expensive if you just need to add watermark to PDF.
Watermarkly has a free version of the app. It allows you to add unlimited number of PDF files and watermarks. The only restriction - it adds the Watermarkly logo to the bottom of the pages.
The paid version starts from US$19.95 for 1-year access.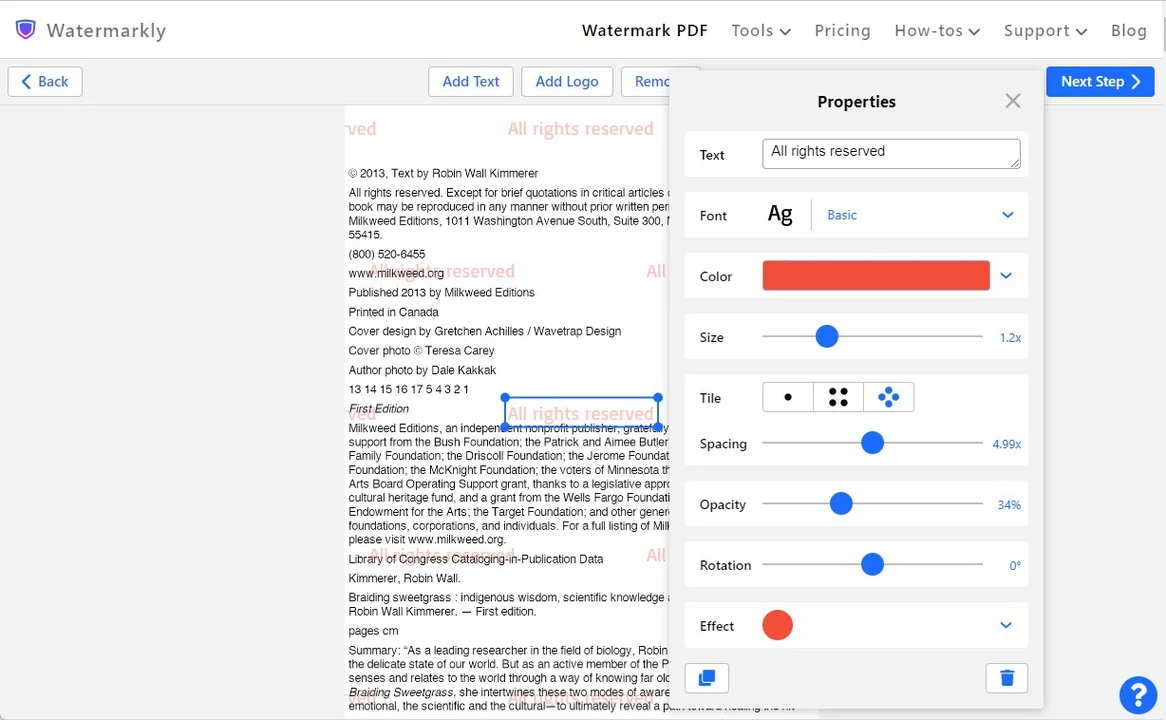 Compatibility
Adobe Acrobat works on Windows and Mac.
Watermarkly works on Windows, Mac, Linux, iOS, or Android.
You can use the app whenever you want, on your computer or smartphone. The app works at a great speed, even if you have poor internet connection. Your files will be processed within minutes, and you won't experience any lags.
Watermarkly also allows you to import and export documents from popular cloud storage options, such as Google Drive, Google Photos, and Dropbox. This means that there is no need for you to store all of your images on your device.
Summing up, adding a watermark to PDF doesn't need to be challenging. In fact, with the right tool, it can take little time and effort.
Watermarkly will help you quickly and easily design and apply a watermark – no matter where you are.
Watermark PDF online
How to add watermark to PDF using Watermarkly
Watermarkly processes files in your browser. To add a watermark to PDF, you need to scroll up to the app's window at the top of the page and get started.
Watermarking your files involves only a few steps:
1. Upload the PDFs you want to be watermarked.
Open the folder with the files on your computer and drag them into the app. It is also possible to click on "Select PDF" to upload documents from your device or one of the listed cloud storage options – Google Photo, Google Drive, or Dropbox. If you choose the latter option, you will need to log into your account and provide access to your files.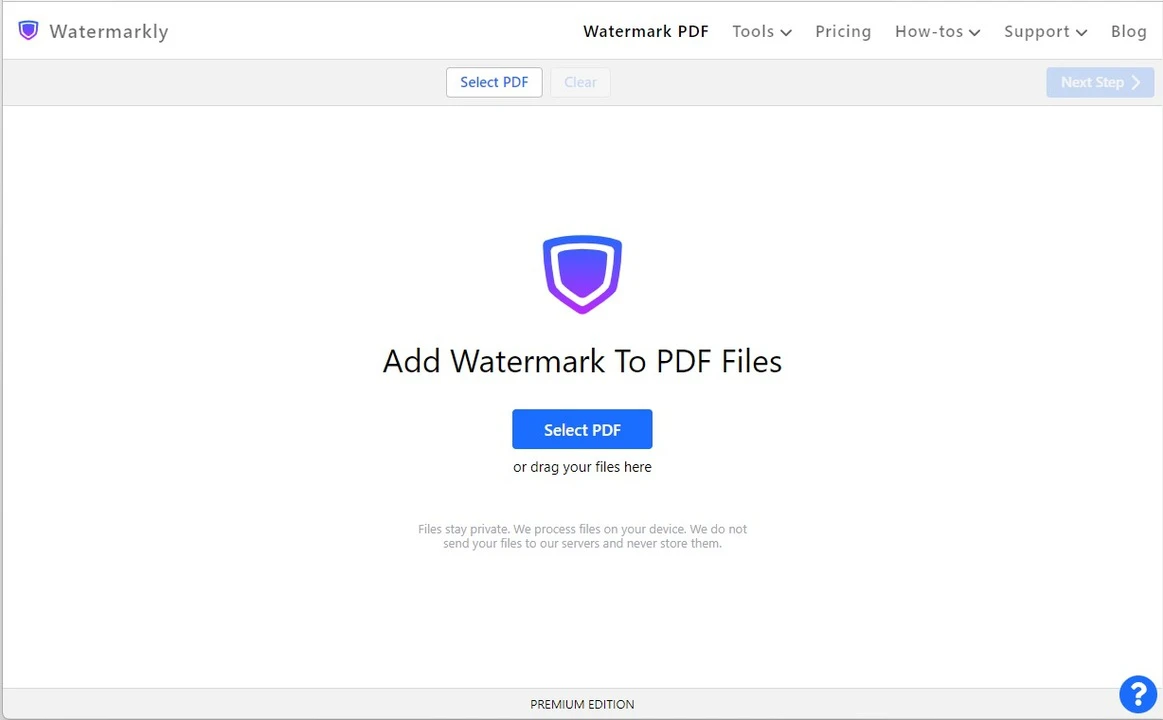 It is important to note that your files stay private. All of them are processed on your device. The Watermarkly app doesn't send PDFs to the servers and never stores them.
Click the "Next Step" button to proceed to the editing stage.
2. Design a watermark for PDF
It's an uncomplicated yet fun and exciting process:
Click on "Add Text" / "Add Logo". If your logo file has a monochrome background, you can delete it by clicking on just one button, "Remove Background".
If you don't have a logo, but you'd like to add a symbol to your PDF, you can make use of our Gallery which offers a great variety of over 50 icons. You'll find assorted capital letters and multi-themed elements like cameras, houses, and so on.
Make the best of the app's toolkit to design a watermark for PDF. You can drag your watermark to any place you like, add various effects, pick a font and color, and change the size and level of opacity.
Use the "Tile" option if you want to fill the entire document with repeated watermarks. Put them vertically or diagonally, rotate them at the desired angle, adjust the space between them, and make them almost transparent so that the text of the file is more visible.
Use the "Duplicate" option, if you want to add more than one watermark with a similar style.
Watermarkly saves your watermark templates. Therefore, you can recycle your text and logos as much as you want. You won't have to spend your time re-creating your favorite watermark from scratch!
3. Preview your watermark on each PDF.
If you don't like the placement, size, color, or transparency of your watermark on the files, you will have the chance to change them in the "Preview & Adjust" section.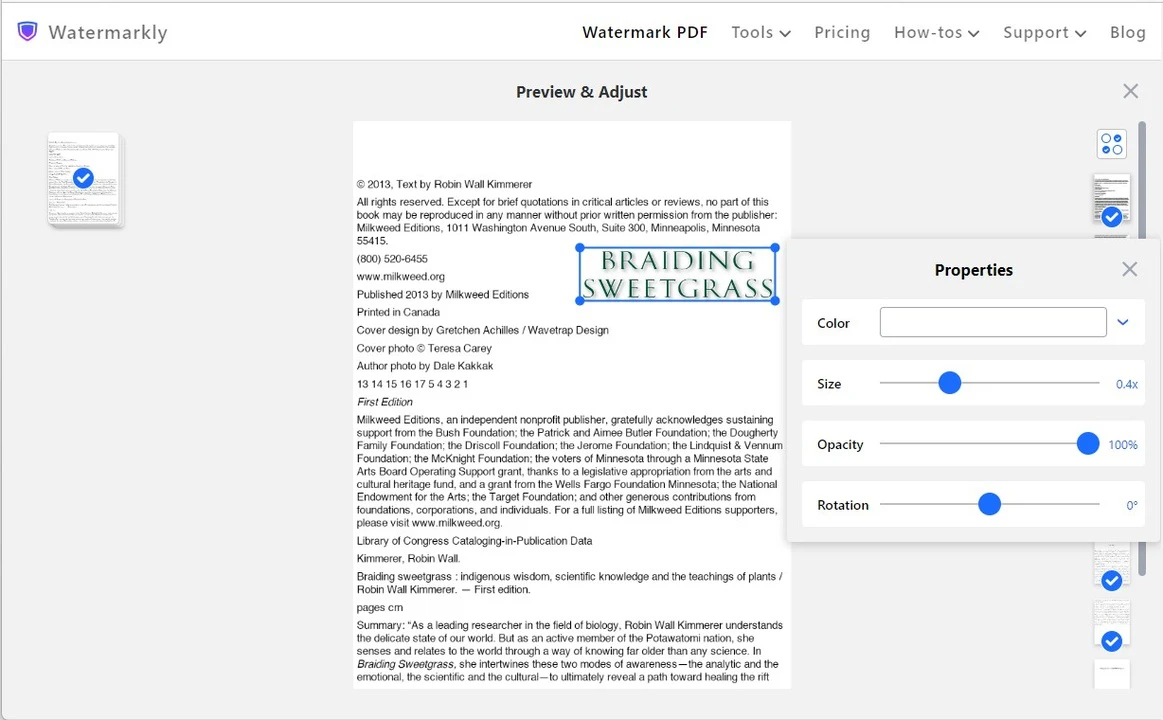 If you only want certain pages to be watermarked, go to the Page Range settings and select the right option.
Once you are done, return to the Export Settings, tick on "Place watermark below the text" (if necessary), and click on "Watermark Files" to start the processing.
By default, Watermarkly automatically changes the size and placement of your watermarks to better fit them into your PDFs. However, it is possible to reposition and resize your watermarks manually.
Watermark PDF online
FAQ
Here are the answers to popular questions about adding watermark to PDF.
What is a watermark on PDF documents?
A watermark is a logo, symbol, or text on a digital or physical document. It may be opaque, semi-transparent, or completely transparent. A watermark shows who the document belongs to or communicates some valuable information – your phone number or website address, for example. Its main purpose is to protect your documents from being copied without your permission. However, in some cases, it can also help with promoting your brand. There are a few reasons for adding a logo or text to PDFs, so it is your job to determine why you might need a watermark.
How do I add a watermark to PDF without Adobe?
You can use the Watermarkly app. It works online on any operating system. It has a mobile version for Android and iOS. The interface is straightforward and easy to use.
How do I add a watermark to PDFs for free?
Watermarkly allows you to watermark PDFs for free. Since it's an online app, you won't have to download or install anything to get started. You won't even need to register, because we have no accounts. Just open our web app and get creating.
In the free version, you can import a batch of documents and apply one or several watermarks to them. However, please note that in the free version, along with your text or logo, the Watermarkly logo will be added to your PDFs. If you don't like this limitation, consider buying one of our paid versions. You can check the pricing here.
How to add a watermark to PDF on Mac and Windows?
The process of watermarking PDFs on Mac and Windows is the same – just open your browser of choice, go to our website, open the app, then drag your files into the app's window or import them from cloud storage by clicking on the "Select PDF" button. Our online app offers the same set of tools and features for different operating systems, so you can use it on any device you want without any difficulties.
Can I add a watermark to PDF on my mobile phone?
Yes, you can. Install the Watermarkly app from Google Play or the App Store. In this mobile version of the app, you can watermark both images and PDFs. If you want to use Watermarkly for free, you need to enable ad tracking. The free version of the mobile app allows you to watermark up to 10 files per day.
How to ensure that the watermark cannot be removed from PDFs?
If you place your semi-transparent watermark across the entire page, right over the text and graphics, it will be challenging to remove it, even with a professional program, because the contents will be affected during the process of erasing a watermark. And all the changes will be noticeable. The right placement and the size of your watermark play key roles in the safety and security of your documents.
Watermark PDF online