How to Add Text to a Photo on iPhone with Watermarkly
Watermarkly is an app that you can use for adding text to your photo. Unlike the Markup Tool, first, you will need to download it from the App Store and install it. Then, open it on your iPhone. This app is for watermarking, but don't worry, there's an option to create textual watermarks, and this is how you'll be able to add any kind of text you want; including multi-line text.
The fact that this app isn't solely for adding text is actually an advantage, because you'll be able to use it for protecting your visual content from theft, as well. Watermarkly offers an excellent editing toolkit and a variety of features that will help you unlock your creative potential. However, if all you want is to embellish your images with some text, you can do just that.
Follow these steps to write text on your photos on iPhone:
Open Watermarkly app on your smartphone, upload your images and tap the "Neхt Step" button.
Enter your text and drag it to any place you want. Tap on the text – the toolkit will show up. You will find 12 recommended fonts available for free, while there are over 900 fonts in the paid version.
In the Color section you will find solid colors as well as a variety of gradients. You can add an effect to your text to make it more interesting. It's also possible to rotate your text, change its level of opacity and its size.
Once you are done, tap "Next Step", go to the Preview section to make sure that everything looks fine and tap "Watermark images". Your processed copies will be saved into the Photos App.
Watermarkly never overwrites original photos. There is no need to make a copy of them before uploading to the app. Your originals will remain unchanged.
As it has already been mentioned, the key difference between the Markup tool and Watermarkly is that the latter is for watermarking images. This means that aside from text, you can also watermark you images with a logo if you happen to have one.
Moreover, once you upload your logo into the app, you can adjust its size, color and placement.
It's possible to remove the background if your logo file doesn't have a transparent one. With the help of the Tile feature, you can fill your entire photos with repeated watermarks – you can do this not only with a logo, but with your text, too.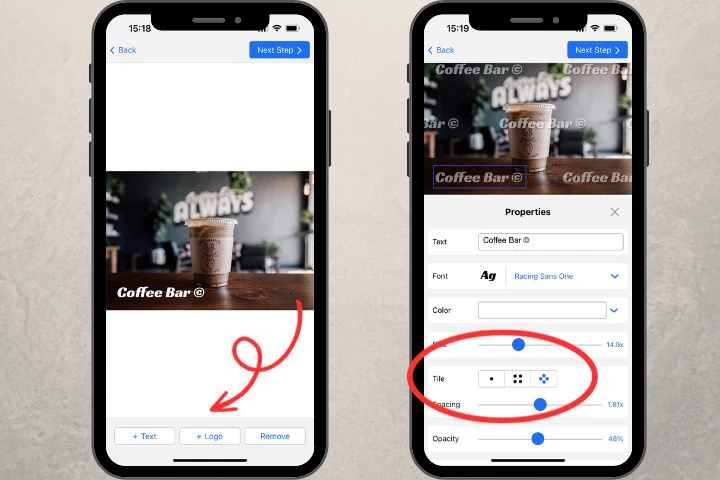 Another advantage of Watermarkly is the possibility of batch photo processing. Free version of the app allows you to add up to 10 photos per day. You can add the same text to several different images at the same time or edit each photo separately.
The main drawbacks are:
There are no elements like frames, arrows or comment boxes. It is possible to place your text against a boxy background that is either black or white, but that's it.
It's impossible to add emojis along with your text.
In the free version you'll be asked to watch an ad before downloading your processed images.
Add Text to Photo