How to Use Watermarkly Photo Cropper
On the site, you can crop photos online very quickly. You don't have to do anything too difficult or complex. Anyone can master Watermarkly. If this is your first time using our app, follow these steps:
Step 1. Add all the pictures you want to crop.
Images can be dragged directly from a folder on a laptop/computer or uploaded from your cloud storage.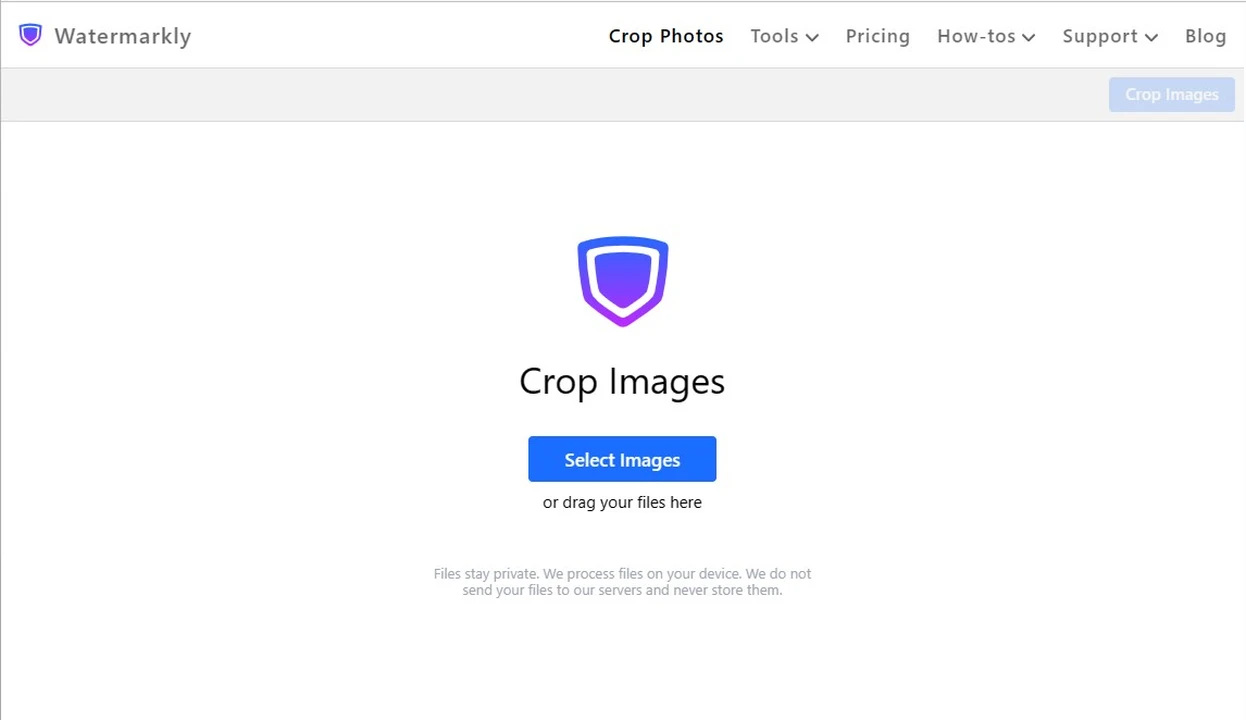 Our app supports JPG, PNG, GIF, BMP image formats. Please note, that if you don't have enough free memory space on your computer or phone, you won't be able to download your cropped copies, since they can be of any size.
If you want to upload photos from a cloud service, you must enter your login details. Do not worry; we do not store your data on the server and do not allow third-parties to access it!
Did you accidentally upload an extra picture? Delete it – on the left, hover over the small version of the image, and click on the trash can icon.
Do you need to add another picture? Select "Add images".
Have you uploaded images that you don't need to work with right now? Delete them all at the same time using the "Clear images" button.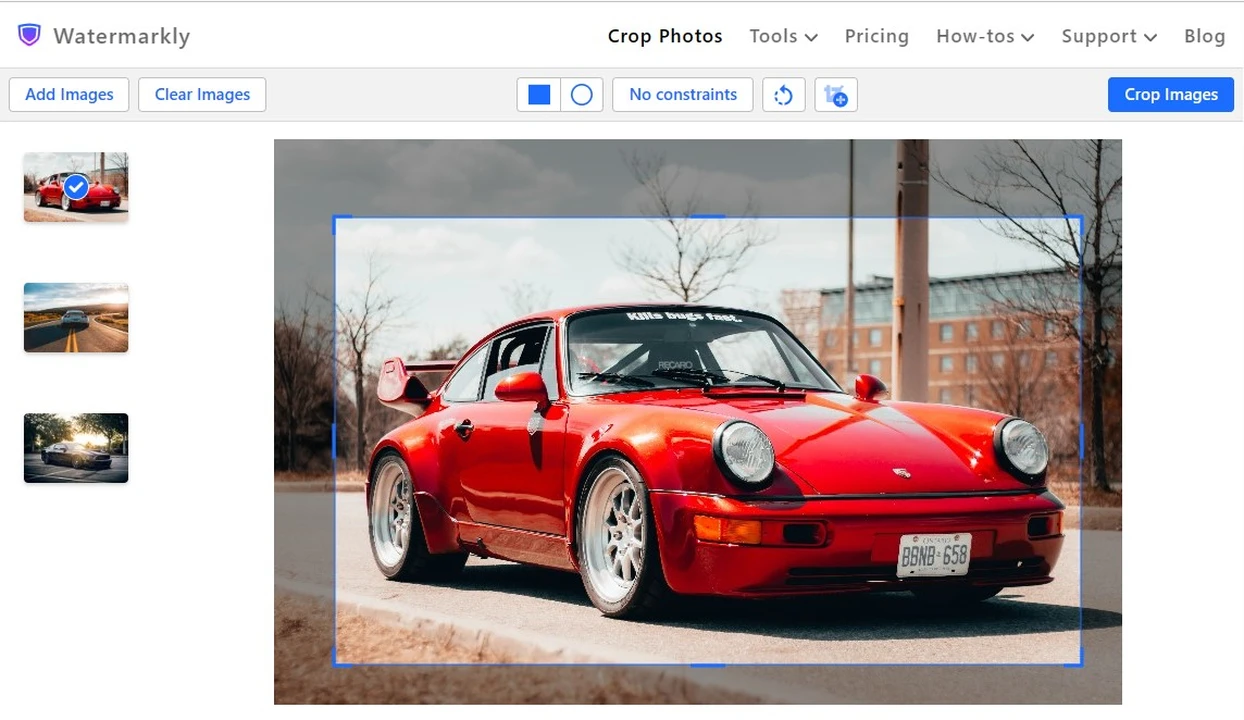 Step 2. Set the photo crop settings.
You can enter the necessary dimensions for cropping or use our templates.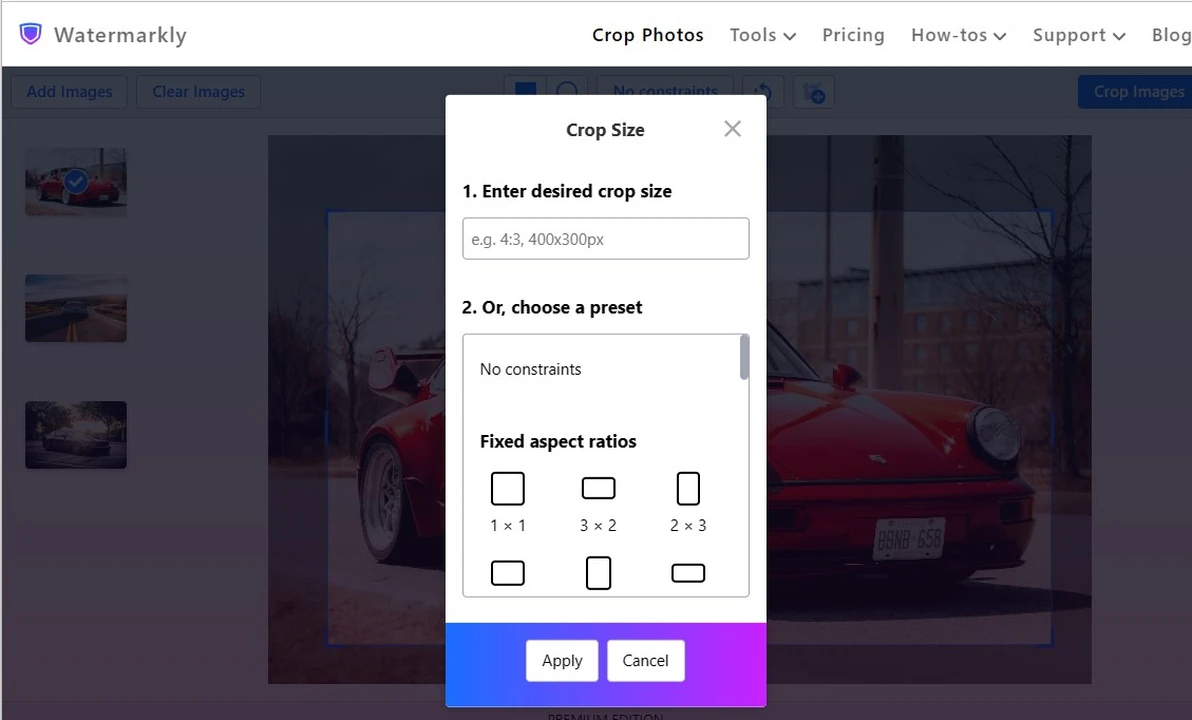 How do you crop photos manually?
We don't limit what Watermarkly users can do. Each of you has the ability to crop photos however you want. Suppose you know that you need a picture with an aspect ratio of 3:5. There's no need for you to keep moving the blue borders with your cursor until you get the ratio approximately right. Just write "3:5" into the menu bar. After that, move the created rectangle to the place where you want to crop.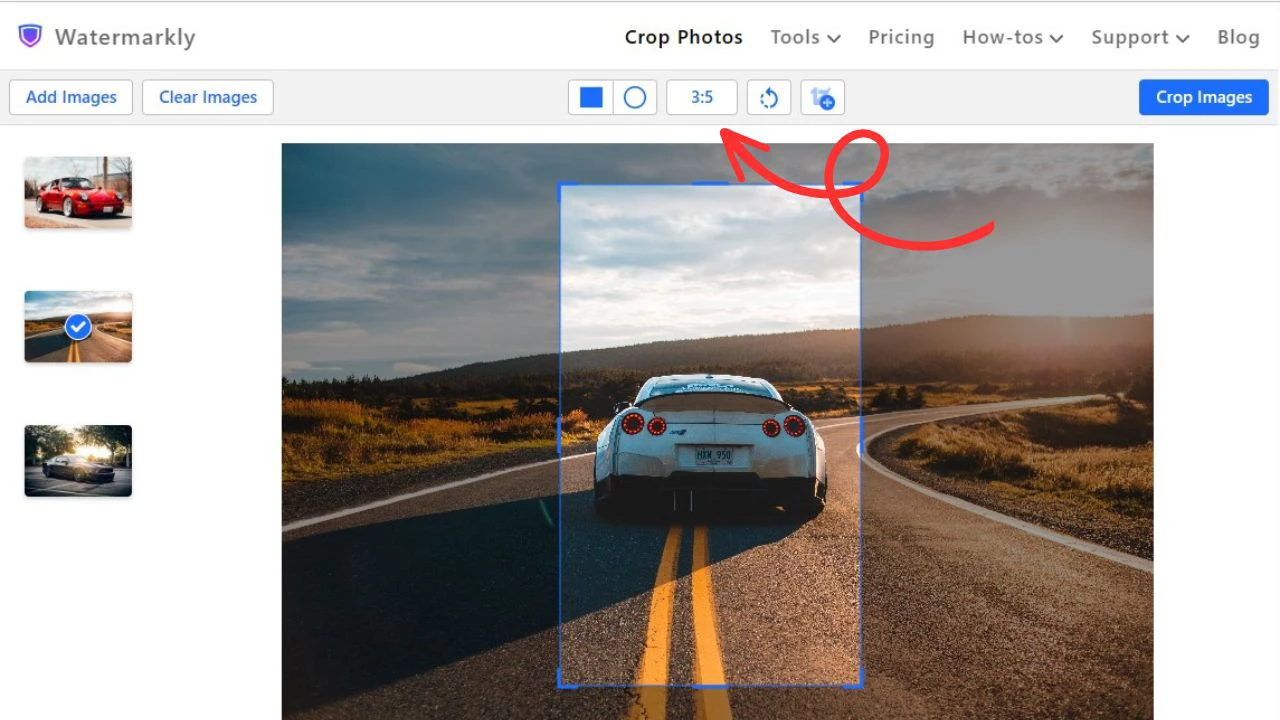 Another way to set your parameters is to write the resolution in pixels. For example, like this "1200x800". Suppose you know precisely what size of the picture you need, do not waste time, and type them into the menu bar. This will significantly simplify and speed up your work with images.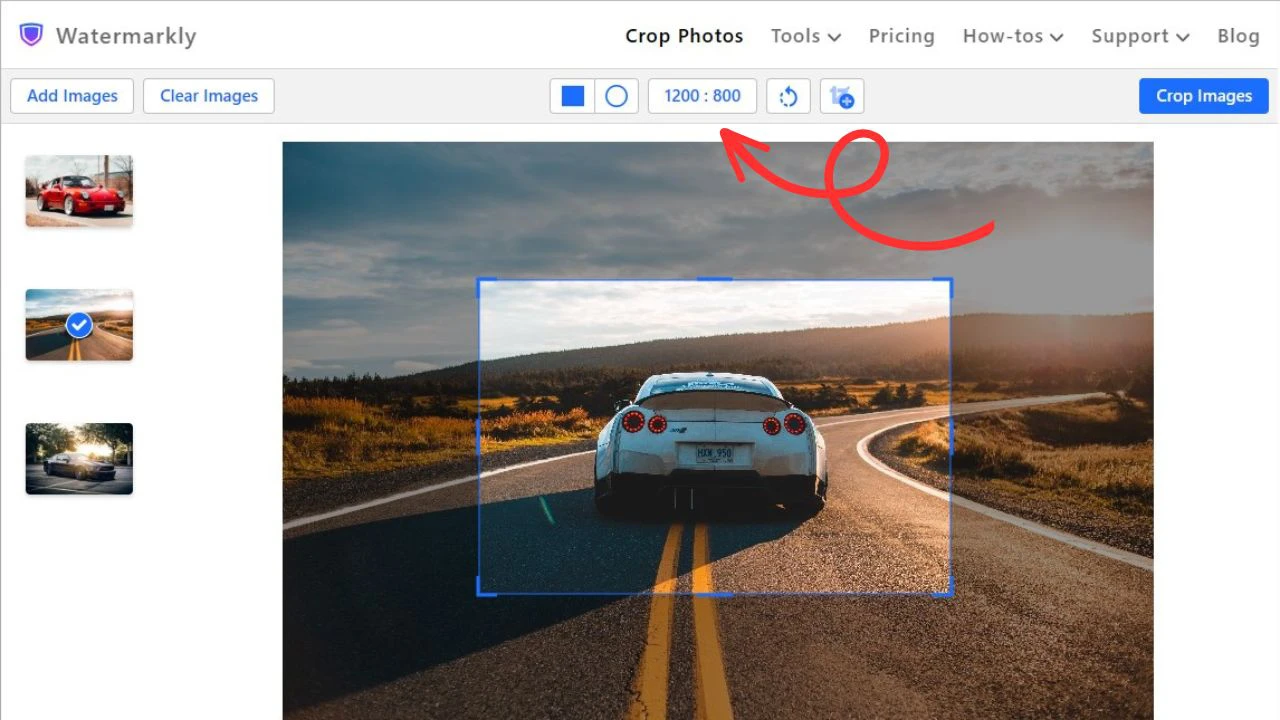 How to crop photos into a circle/square
To apply these settings, proceed as follows:
Select a shape (click on the square or circle to the left of the extended menu).
Move the shape to the part of the picture where you want to crop the photo.
Edit the cropping area. The blue borders are not locked to change their position. You can make a rectangular shape out of a square / an oval out of a circle. All elements that are outside the blue borders will be automatically deleted.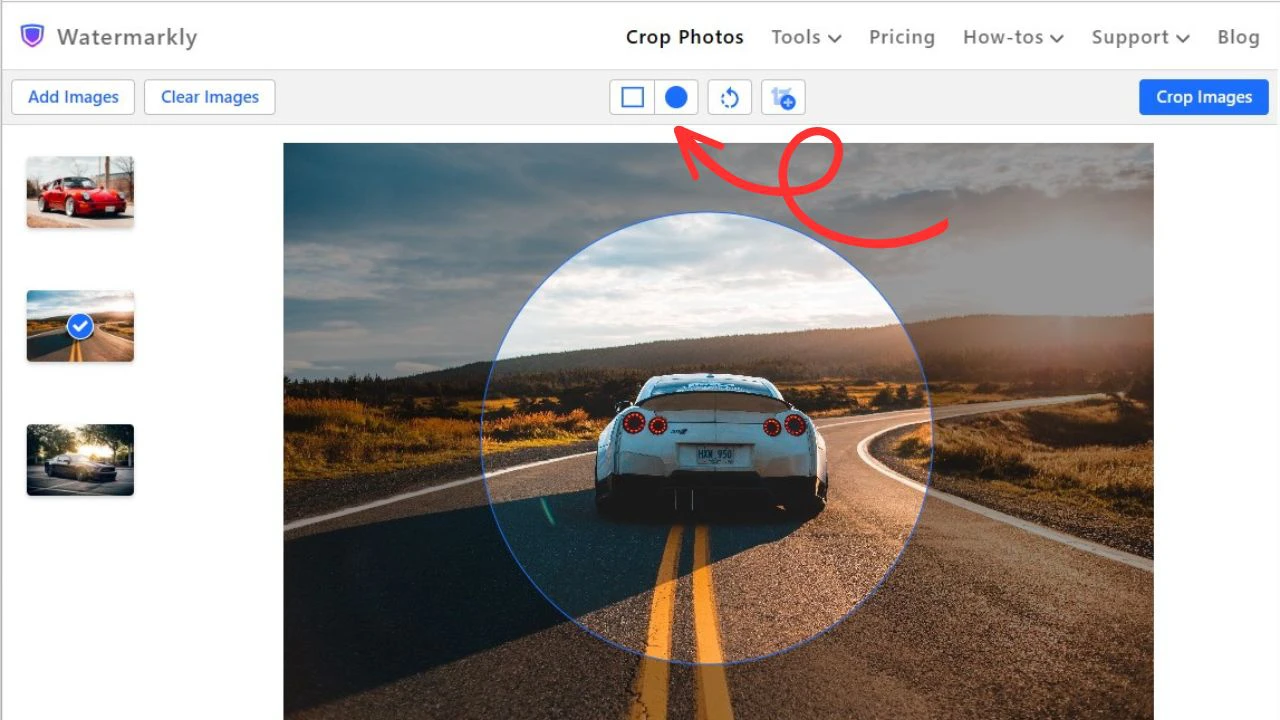 How to crop multiple elements from a single photo
Click on the button "Add Crop".
The copy of your image will be added to the list of the photos processed, so that you will be able to crop the same picture in a different way.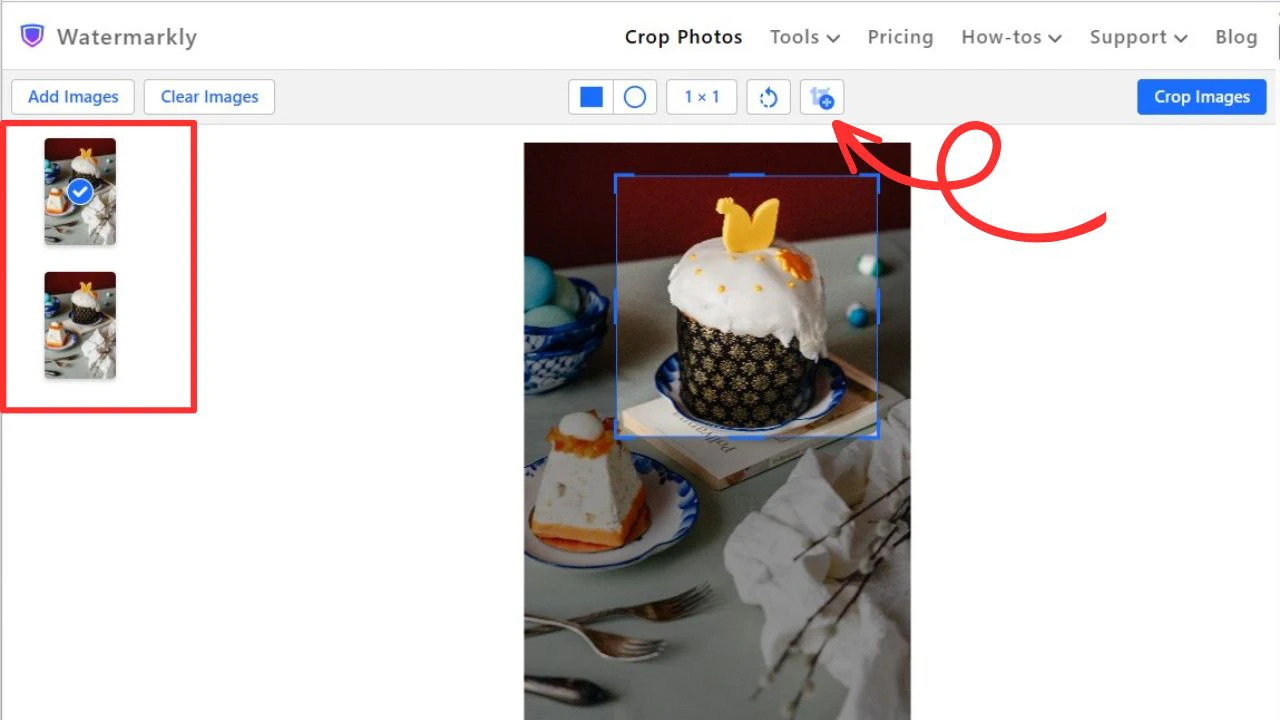 Previously used crop settings
If you tend to crop your photos in a similar way or use customized presets, the list of previously used crop settings will surely simplify and speed up your workflow. You can access it in the Options drop-down menu.
Moreover, the very last crop settings you used will always show up automatically the next time you open the app and upload some photos.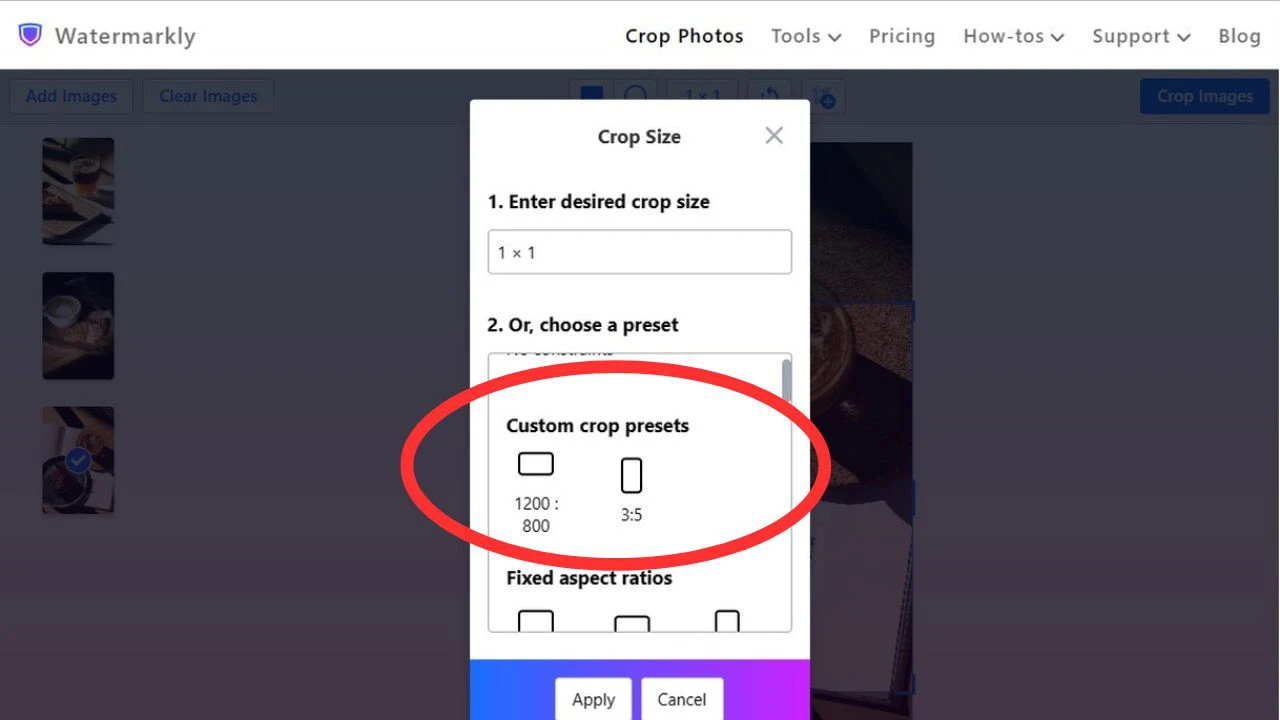 Fixed aspect ratios
These options include locked aspect ratios of your cropping area.
In this case, the absolute size in pixels is irrelevant. Instead, you select the ratio of your cropping area's width to its height. Our app offers these options: 1:1, 3:2, 4:3, 16:9, 2:3, 3:4, 9:16, 10:16. If you need a ratio that is not on the list, click into the selection box and type in, for example, 4:5.
You can make the cropping area bigger or smaller, or move it to any other location within the image. But the selected aspect ratio will be locked: if you make the cropping area wider, its height will increase automatically as well.
If you have a batch of photos, you can set one ratio option for all images or select different ratios for each photo separately.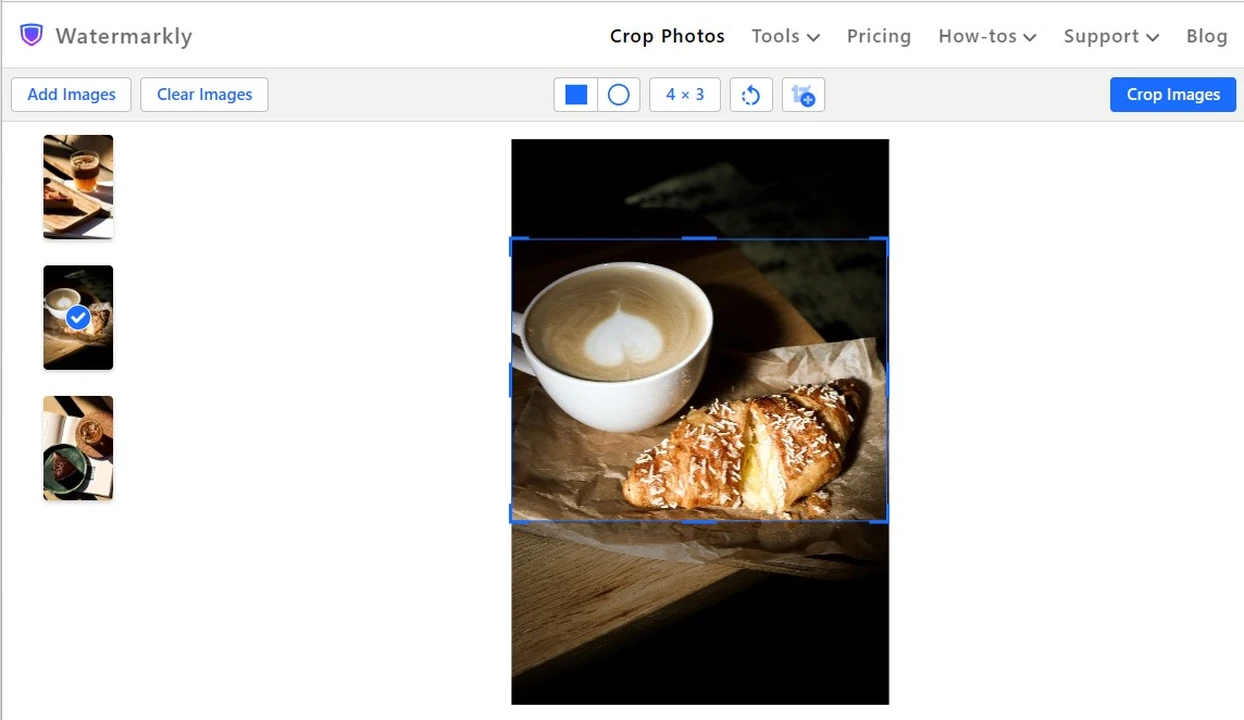 Social media dimensions
This part of the list contains the most popular dimensions for social media platforms such as Instagram, Facebook, Twitter, Youtube, LinkedIn.
Unlike standard aspect ratios, these options affect not only the ratio of width to height but also the size in pixels. The resolution of your cropped copies will be changed automatically according to the option of your choice. For example, if you select "Instagram Story 1080 × 1920", your cropped image will be 1080 pixels wide and 1920 pixels high.
You can also manually change the size of your cropping area by entering your preferred width and height in pixels into the selection box. For example, you can enter 1200 × 1900.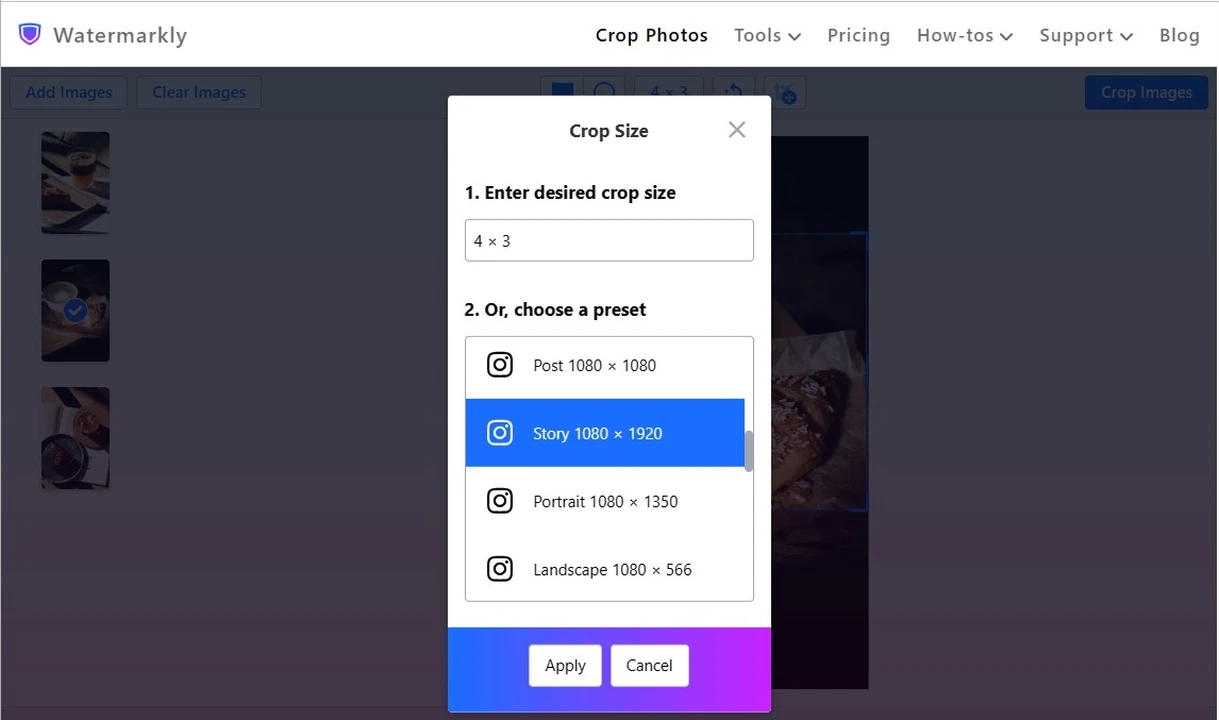 Straightening a horizon
With our Photo Cropper, you can not only crop your photos but also rotate your whole image to any angle. This feature can be especially useful if you need to fix a crooked horizon.
To the right from the Options drop-down menu, you will see an arrow that allows you to rotate your image. It is initially set to 0°, but you can set any angle from -7 ° to 7 °. Depending on which side you want to tilt your photo to, move the blue circle to the left or right.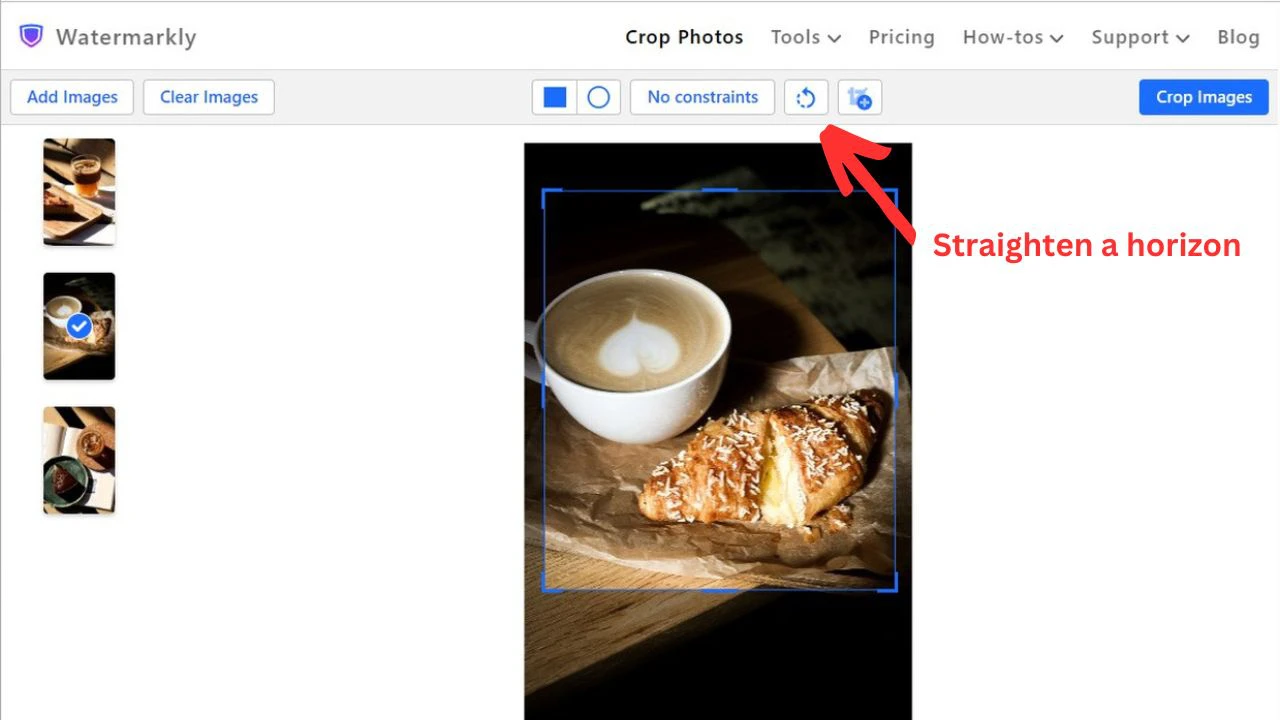 Step 3. Preview your cropped images.
Click on the "Crop images" button and then select "Preview." Check how our tool cropped each picture (if you worked with several at once).
If you are happy with the results, go back to the output settings. Click on the cross in the upper right corner for further work.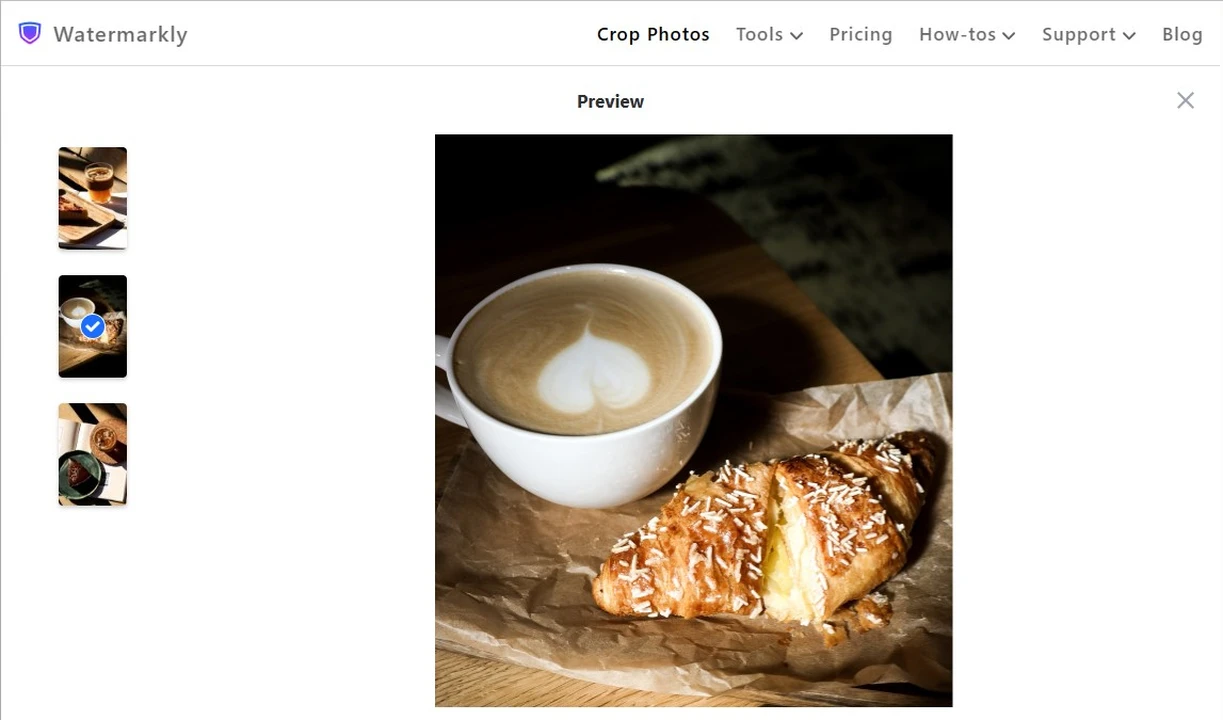 Step 4. Select file format.
Our photo cropper offers several formats in which you can save your images. We also give a short description in brackets next to each format so that you can easily understand what you will get in the result.
For example, if you need a large file size without quality loss, you'll have to select PNG. If you want to get a file of a small size, choose to convert it to JPEG with additional compression.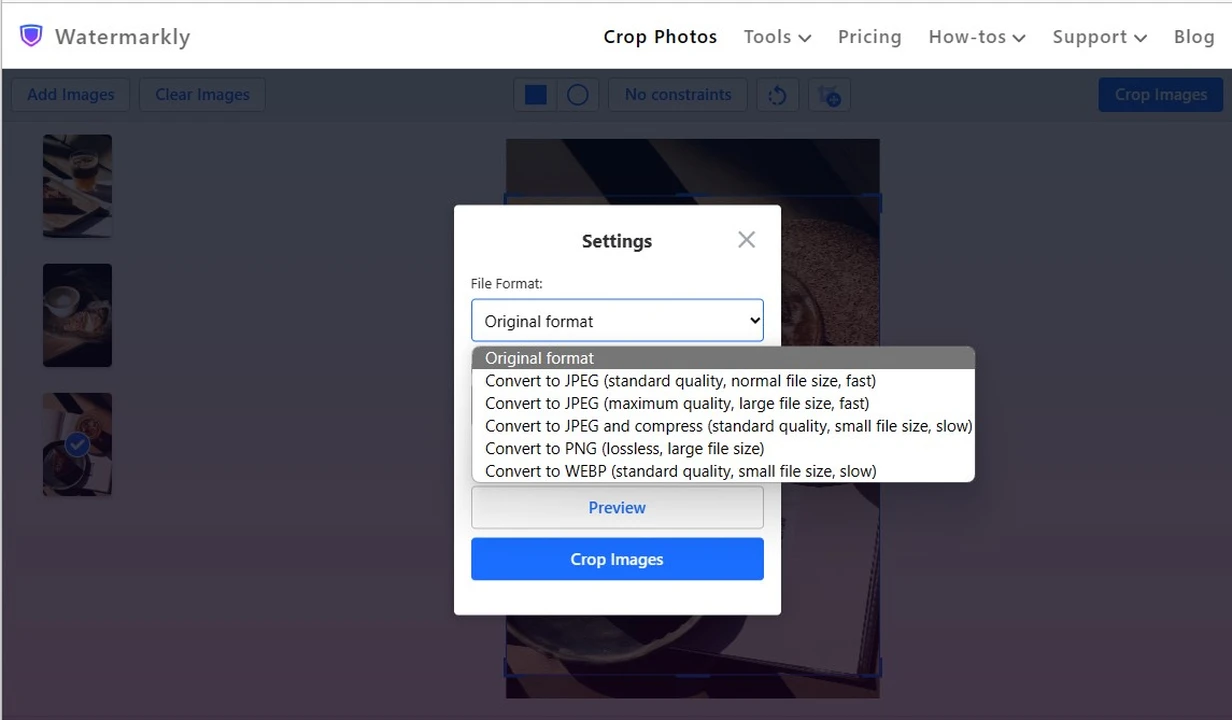 Step 5. Add a watermark (optional).
Watermarkly is an all-in-one web application that combines various photo editing features, including applying a watermark. When you work in our Photo Crop tool, you can add a watermark to pictures in the Output settings.
Don't worry if you've never done this before! With Watermarkly, adding a watermark is very easy:
Click "Create new watermark".
Сhoose "Logo" or "Text".
Edit the position of the text/logo. Use all the features of our tool.
Next time you visit our website from the same computer/phone and want to add a watermark, you won't need to create it again. We store watermark templates of our users.
Crop photos are easy and fun!
Watermarkly's Photo Crop tool is only available on the web. You do not need to download our program from the website, look for the installation file on your laptop. Use all the features as soon as you open the tool.
No intrusive ads or pop-ups. It is comfortable to work here. See for yourself!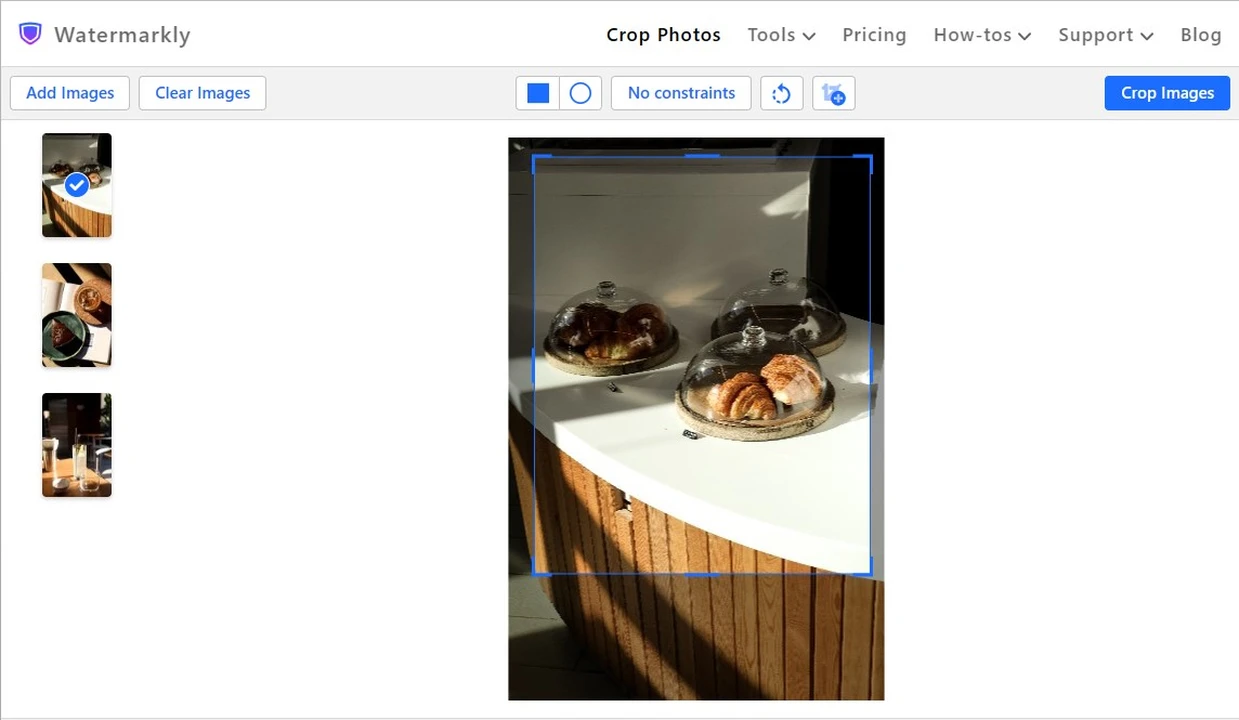 A few more benefits you'll love:
Safe. You do not run the risk of infecting your computer with a virus and losing data. Also, we do not store uploaded files on the tool's servers. You do not need to be afraid that they will end up in the hands of third parties.
Fast. Your photos will be uploaded quickly, no matter how large your batch is. It will take you no more than five minutes to process your images. We don't have extra complicated features that will slow down your process.
Multifunctional. You can crop photos, add watermarks, compress and resize images, and many more on our website.
Most of the Watermarkly tools are available for free. Process your photos quickly and easily.