Crop Photo - How It Works
Drag your photos into the Photo Cropper or click the "Select Images" button. Upload photos from your computer, Google Drive, Google Photos or DropBox.
Select the area that you want to crop. Adjust the cropping area manually or choose one of the options from our "Desired size or proportions" list. You can crop your images in a rectangular or a circle shape. You can also change the width and height in fixed aspect ratios using your keyboard. When you need to process a batch of photos in one go, you can apply one crop size to all of them, or adjust the cropping area for each image separately.
If necessary, straighten the horizon by moving the rotation slider.
Click the "Crop Images" button - Output Settings dialog will appear. The dialog allows you to choose the image quality, or apply a watermark. If you want cropped photos to be watermarked, enable the "Watermark Images" option, and choose watermark from the list of recently used templates or create a new one.
All you have to do now is click the "Crop Images" button and download processed images.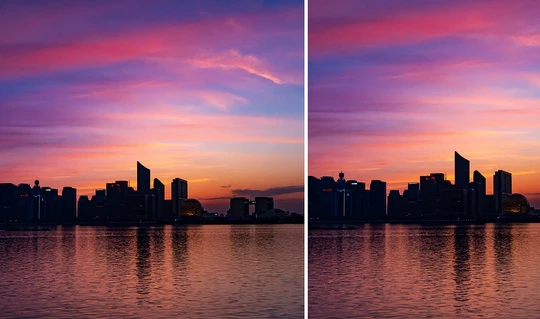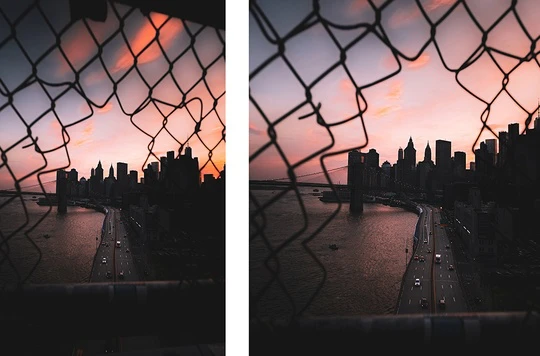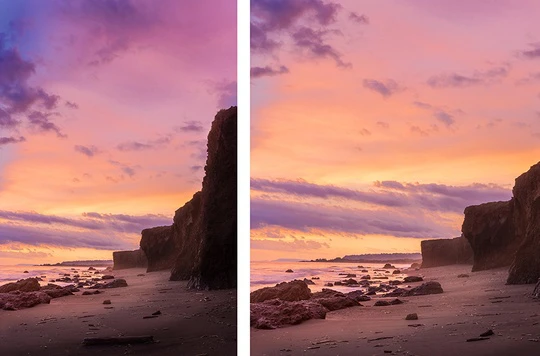 Crop Photo 100% Safe
Batch crop several images right in your browser. Our crop tool will process your photos instantly. Uploads and downloads are incredibly fast. So is the cropping process.
Watermarkly Photo Cropper works online. You don't have to waste your time waiting for a program to be installed on your computer. Don't take any risks by installing software from unknown sources on your computer. Our tool doesn't require any plugins. There are no ads or pop-ups.
We don't keep your photos on our servers and have no access to them. Nobody in our company can access your files, they are always only yours.
Multiple Cropping Options
For your convenience and quick use of the app, we offer a broad range of options to adjust the cropping area.
You can:
✓ crop your photos in a rectangular or in a circle shape,
✓ set the cropping borders manually,
✓ choose one of the fixed aspect ratios from the list,
✓ change the selected ratio of width to height using your keyboard.
If you choose the common shapes (rectangular or circle), you can manually adjust the cropping area. Simply drag the blue borders in any direction until you are happy with the result. Anything outside the blue borders will be cropped out. The aspect ratio here is not fixed, so there are no limitations. You can freely change the cropping area and choose any diameter or ratio of height to width you want.
If you choose one of the fixed aspect ratios, you can resize and reposition the cropping area however you want. But the ratio of width to height will be locked.
Our list contains both standard aspect ratios (1:1, 4:3, 16:9, etc.) and popular dimensions for social media platforms such as Instagram, Facebook, Twitter, Youtube, LinkedIn.
If you choose an option with the specified size in pixels, for example, "Instagram Post 1080 × 1080", then your cropped copies are going to be reduced or enlarged to be 1080 x 1080 pixels.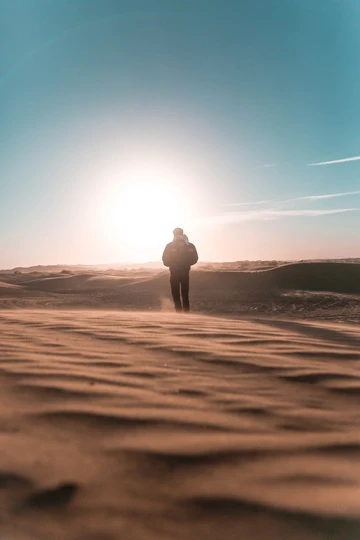 Straighten A Horizon Line
With our crop tool, you can not only crop your photos but also rotate your whole image to any angle. This feature can be especially useful if you need to fix a crooked horizon.
To adjust the angle of your image, use the slider next to the list of crop sizes at the top of the screen. By moving it from one side to the other you will easily get the desired result. Don't worry, the quality of your photos will not be affected.
The combination of cropping and rotation features allows you to edit your photos quickly and efficiently at the same stage in one app.
Image rotation might be useful for enhancing a wide variety of photos. After all, it allows you to not only straighten the horizon but also drastically change the camera angle. Unfortunately, you cannot rotate a photo to 180 degrees, but you still have the chance to fix mistakes that you made during the shooting.
How To Crop Photo Using Watermarkly
To get started, you need to drag your photos into the app or click the "Select images" button — a pop-up window will appear. You can upload your photos from your computer, Google Drive, Google Photos, or DropBox.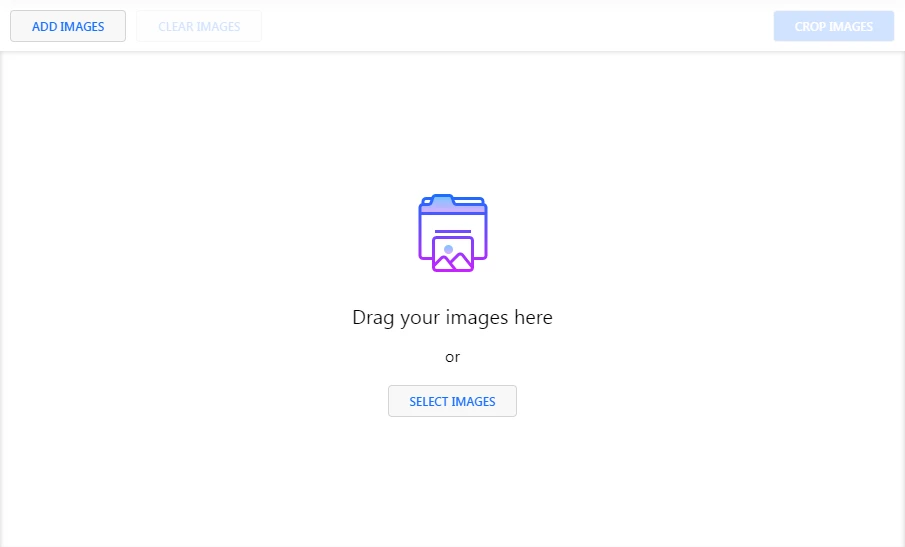 Our Photo Cropper supports JPG, PNG, GIF, BMP image formats. Please note, that if you don't have enough free memory space on your computer or phone, you won't be able to download your cropped copies, since they can be of any size.
If you choose "From My Computer", find the necessary folder in the dialog window and pick the images you want to crop. To select all photos in a folder, press Ctrl + A on Windows or Cmd + A on Mac.
If you choose one of these options — "from Google Drive", "from Google Photos" or "from DropBox" - a dialog box will appear and the app will ask you to grant access to your cloud storage. Click the "Allow Access" button. This will open a new window for choosing images. If you want to select multiple photos, pick them while holding the Shift key. To proceed click the "Select" button.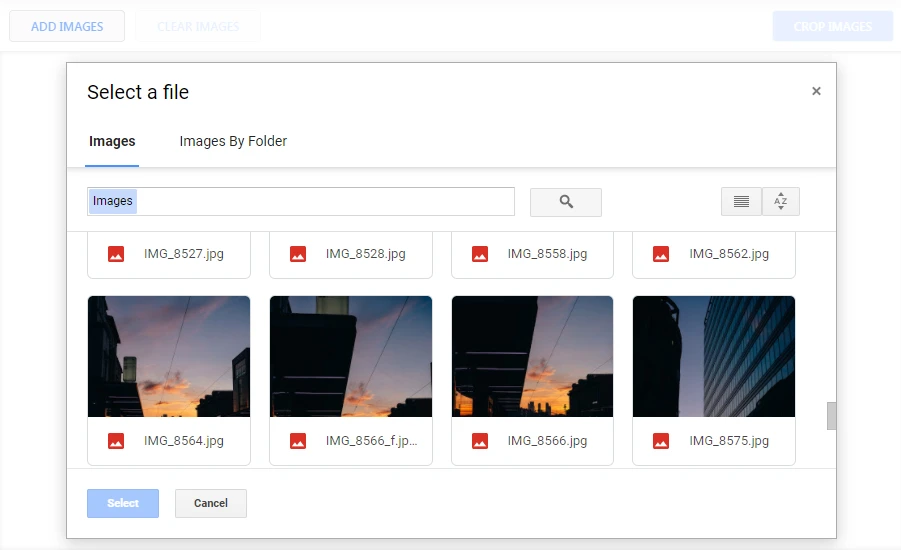 If you want to add more images, click the "Add photo" button. If you want to remove all the current images from the app and upload different ones, click on the "Clear" button.
To adjust the cropping area, use the "Desired size or proportions" drop-down menu at the top of the app. Click the drop-down menu. You will see the following options.
Common Shapes: Rectangle & Circle
With our tool, you are not limited to cropping your images only in a rectangular or a square shape. You can crop them in a circle as well. At the very top of the menu, you will find the selection of two shapes: "Rectangle" – which can be easily transformed into a square – and "Circle".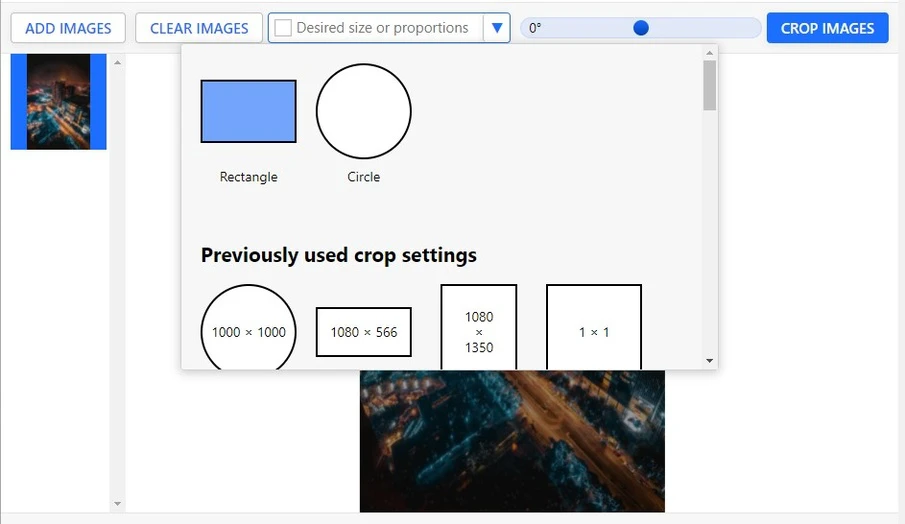 No matter what shape you choose, the cropping area can be adjusted manually using the cursor if you are on a computer or your finger if you are on a mobile device. Our app allows you to set any diameter, aspect ratio, or pixel dimensions you want. To make the cropping area larger or smaller, all you need to do is hover your cursor over the blue border and drag it.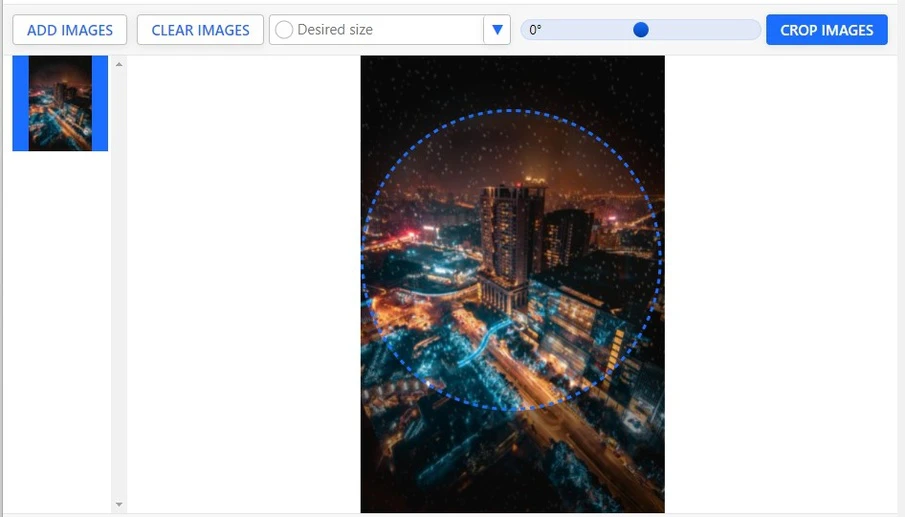 With a rectangular shape, height and width can be adjusted separately. With a circular shape, you can increase or decrease the radius.
Additionally, you can click inside the Options bar and enter the desired size of your cropped image in pixels. If you select a circle and type in 1000 into the bar, your cropped photos will be 1000 pixels in diameter. But if you select a rectangle and type in 1000, the width of your cropped images will be 1000 pixels, while the height will be changed automatically according to the cropping borders that you set.
Finally, if you select a rectangle and enter dimensions for both width and height – for example, 1200 × 1900 – into the Options bar, the size of your cropped photos will be 1200 × 1900 pixels.
If you want to reposition your cropping area, place your cursor within its borders and move it to a different place within the image.
Previously Used Crop Settings
If you tend to crop your photos in a similar way, the list of previously used crop settings will surely simplify and speed up your workflow.
You can access it in the Options drop-down menu, underneath the selection of shapes. Moreover, the very last crop settings you used will always show up automatically the next time you open the app and upload some photos.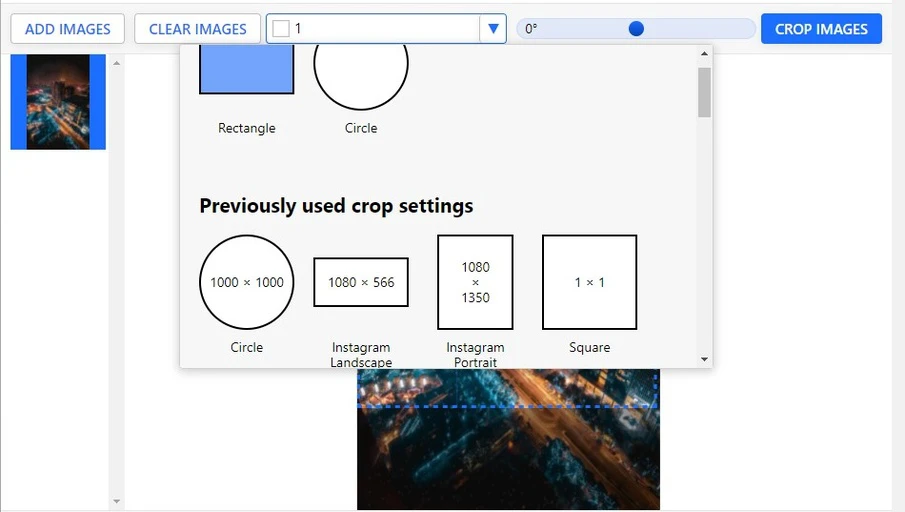 Fixed Aspect Ratios
These options include locked aspect ratios of your cropping area.
In this case, the absolute size in pixels is irrelevant. Instead, you select the ratio of your cropping area's width to its height. Our app offers these options: 1:1, 3:2, 4:3, 16:9, 2:3, 3:1, 2:1, 1:2. If you need a ratio that is not on the list, click into the selection box and type in, for example, 4:5.
You can make the cropping area bigger or smaller, or move it to any other location within the image. But the selected aspect ratio will be locked: if you make the cropping area wider, its height will increase automatically as well.
If you have a batch of photos, you can set one ratio option for all images or select different ratios for each photo separately.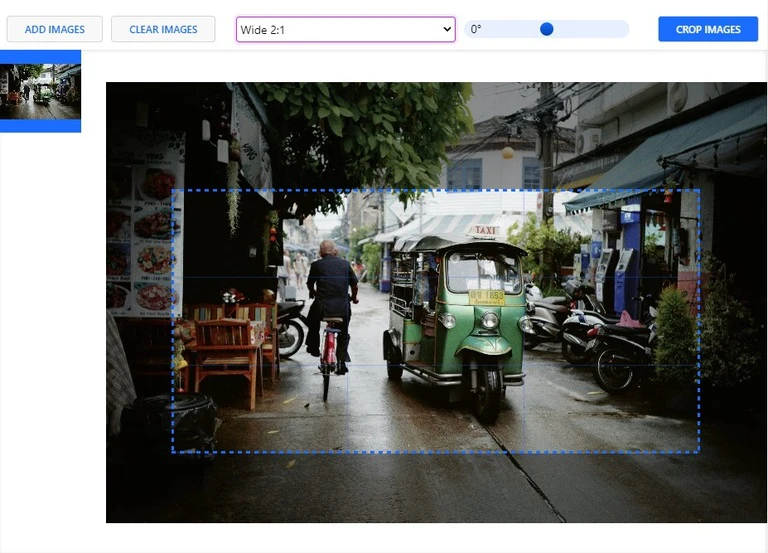 Social Media Dimensions
This part of the list contains the most popular dimensions for social media platforms such as Instagram, Facebook, Twitter, Youtube, LinkedIn.
Unlike standard aspect ratios, these options affect not only the ratio of width to height but also the size in pixels. The resolution of your cropped copies will be changed automatically according to the option of your choice. For example, if you select "Instagram Story 1080 × 1920", your cropped image will be 1080 pixels wide and 1920 pixels high.
You can also manually change the size of your cropping area by entering your preferred width and height in pixels into the selection box. For example, you can enter 1200 × 1900.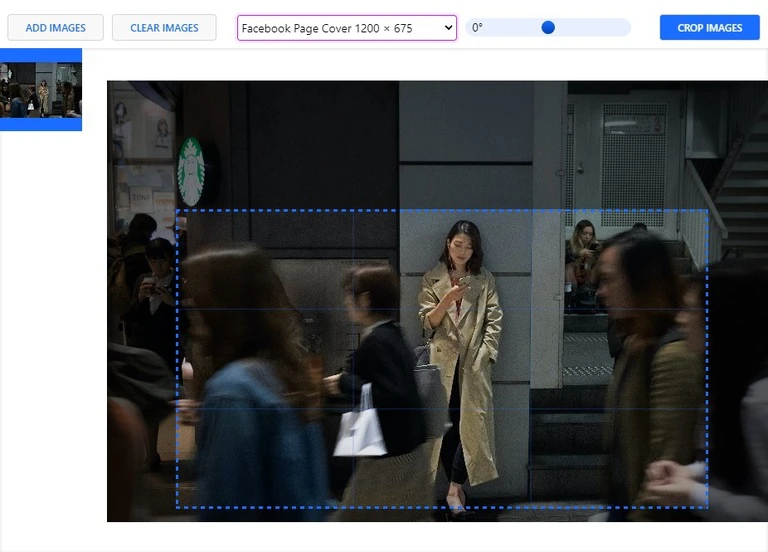 Straightening A Horizon
To the right from the "Desired size or proportions" box, you will see a blue slider that allows you to rotate your image.
It is initially set to 0°, but you can set any angle from -7 ° to 7 °. Depending on which side you want to tilt your photo to, move the blue circle to the left or right.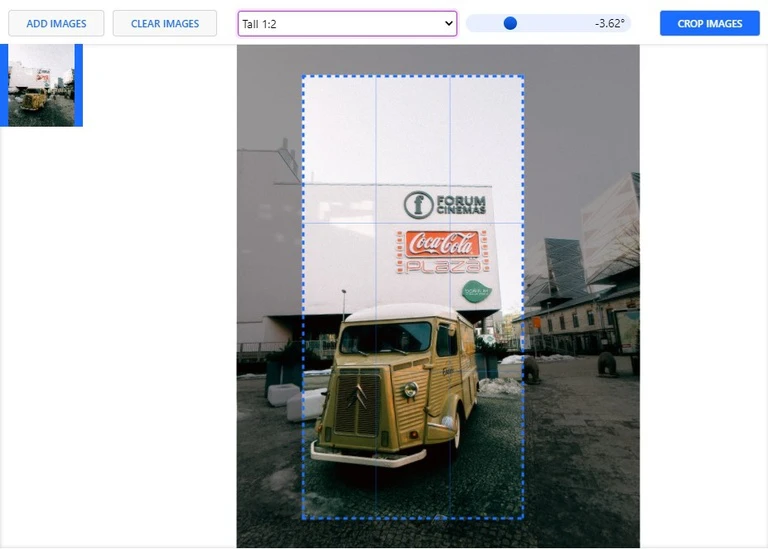 Output Settings
Once you are done with adjusting your cropping area and making all the necessary changes, click on "Crop Photo". This will take you to the Output Settings.
Please note that circle-shaped images can be saved only in PNG or WEBP format. They cannot be saved as JPG because it doesn't support transparency. If you upload a batch of JPG images into the app and crop them in a circle, they will be converted to PNG or WEBP format.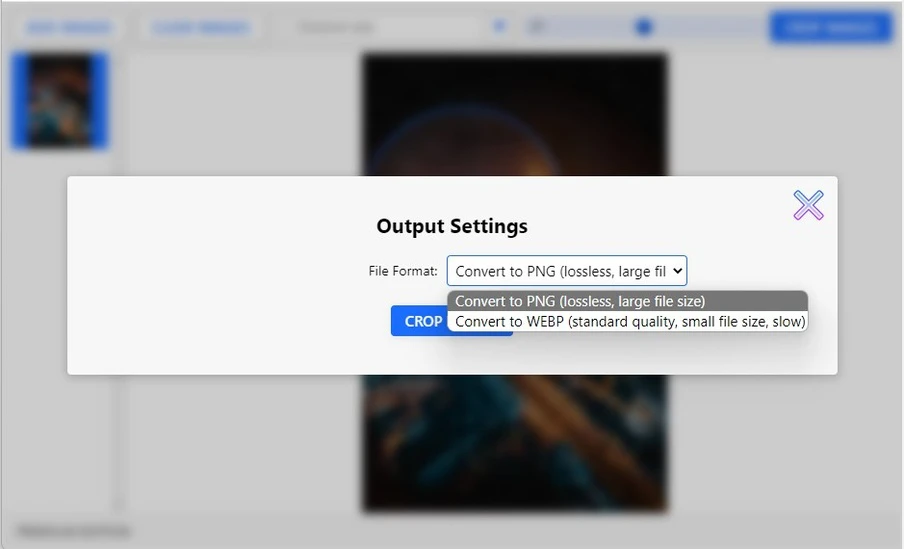 For rectangular-shaped images, there are 6 options of the file format to choose from: "Original format", "Convert to JPEG (standard quality)", "Convert to JPEG (maximum quality)", "Convert to JPEG and compress", "Convert to PNG" or "Convert to WEBP". Our useful hints in parentheses next to each format will help you to determine which one will be the best for you.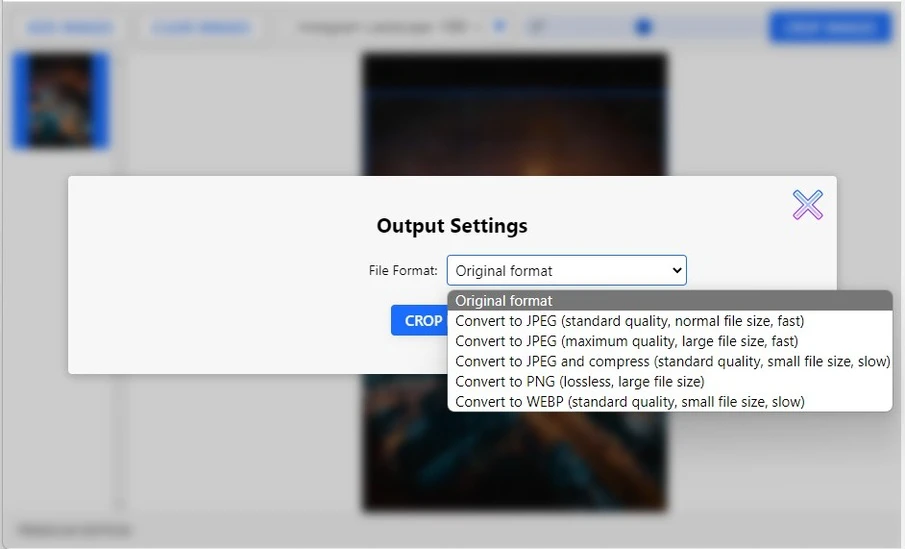 Click on "Crop Photos"to start the cropping process. Once the cropped photos are ready, the app will offer you to "Download All" images to your computer or upload directly to Google Photos or Dropbox.
Add A Watermark (Protect Your Images)
You can add a watermark to your photos right in the crop tool without going to our watermarking app. To do this, you need to click inside the empty box next to the words "Watermark Images" on the output settings screen.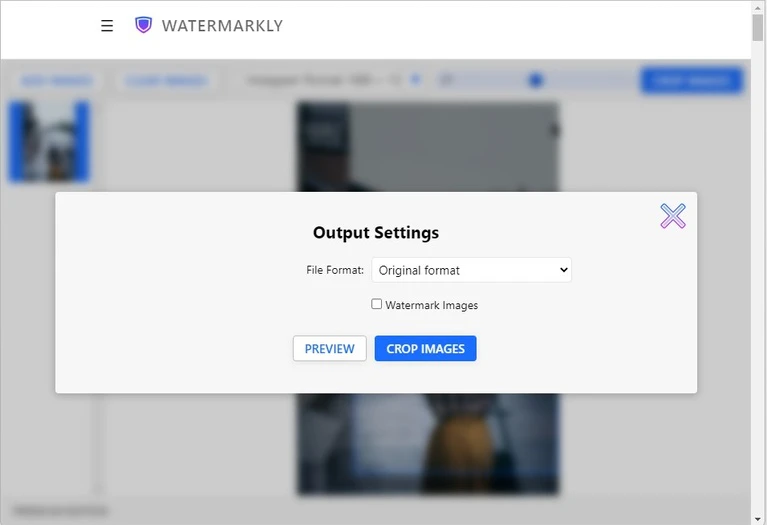 As soon as a tick appears inside the box, a list of previously created watermark templates will open up. If you want to check if the watermark that you chose is going to look good on your cropped photos, you'll need to go to the Preview section by clicking on the "Preview" button.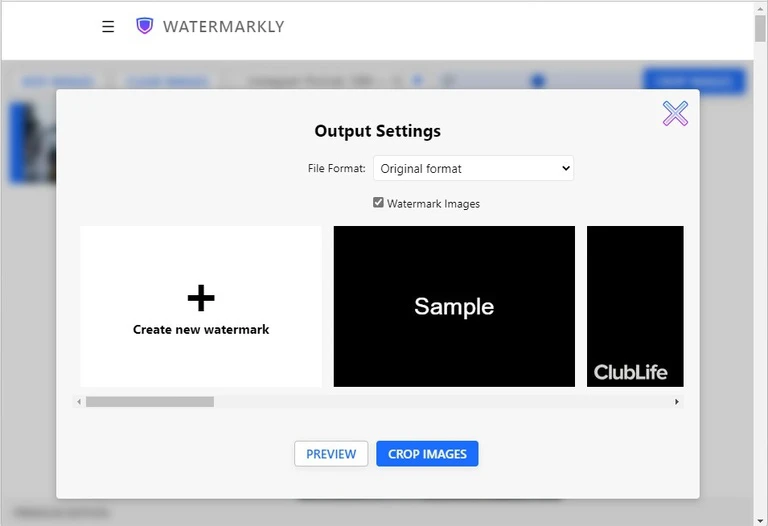 It is also possible to create a new watermark. Once you click on "Create new watermark", a new window will appear, where you can add a logo, a text, or both, and have access to all the necessary editing tools. The app allows you to upload a logo from your computer or cloud storage as well as select an icon from our gallery.
With this feature, you'll be able to not only crop but also protect your images easily and quickly.