What is JPEG Format
JPEG (JPG) is a popular graphic format created by the Joint Photographic Experts Group Corporation. The main task of this development team was to create an optimal compression algorithm. They managed to do this. Today JPEG format is among the three most popular.
What is the Characteristic of JPEG?
It uses lossy JPEG compression.
It does not support transparency.
It allows you to adjust the level of image quality. When saving JPEG compression, details will be removed, the size will decrease and noise will be added.
It supports CMYK, 24-bit RGB, and 8-bit Grayscale color spaces.
It has integrated EXIF support, which allows you to store metadata. For example, it may be the camera model and manufacturer that were used for shooting.
Depending on the settings, you can compress JPEG to 2:1 or 100:1 proportion.
File extensions .jpg and .jpeg work absolutely identically.
Scope of JPEG Format
The format algorithm is more suitable for compressing images in which there are smooth transitions of color and brightness. JPEG is also used to transfer and store photos, pictures, and scanned copies. The format is more convenient when placing and transmitting compressed images on the Internet. That is why such images weigh much less than other formats. This is a very convenient and practical format that can be used everywhere.
Where JPEG is not used
JPEG format is not suitable for compressing text, iconic graphics, or drawings, where there is a sharp contrast between pixels. For such content, files with lossless formats are needed.
JPG is not suitable for compressing images with multi-stage processing also. When saving intermediate results, images will be entered each time.
It is important to remember. If you open a JPEG image in an editor, do not make changes, and save it, automatic compression will still occur. Changes in the algorithm will affect color transitions, shades, and pixels. Each time a JPEG image is saved, it will differ from the original one.
JPEG is not used when the image quality needs to be preserved in its original state. In case quality losses are not allowed at all. An example is images of a medical nature.
Advantages and Disadvantages of JPEG Files
Let's consider in detail what are the pros and cons of the format that we are considering in this article. This will allow you to better understand all its features and the scope of practical use.
Pros
JPEG compression is possible with the selected ratio of file size and quality. That is, the format provides tools for managing the compression ratio.
The quality of images remains as high as possible even with a large degree of JPG compression.
The files weigh a little, which makes it easier to work with them.
The format is recognized by all browsers, text and image editors.
Files are displayed correctly on mobile phones, tablets and computers.
The format works correctly with full-fledged realistic pictures, where there are many contrasting and color transitions.
Cons
Strong compression can cause the image to break up into blocks of 8x8 pixels. The reason for this process is the analysis of neighboring pixels, averaging and color calculation in the JPEG compression algorithm.
Color transitions may disappear or become stepped.
Files are not suitable for working with monochrome graphic images and texts.
The format does not support transparency, so it is not suitable for logos, templates.
A file that has been restored after compression cannot be resaved, because this leads to a deterioration in the quality of the image.
When And Why is JPG Compress Required
Why is JPEG compression required? A popular question that has an exhaustive and understandable answer. First of all, image compression is necessary for placing pictures on the site. Why is this important? Visual content on websites plays an important role because most people perceive visual information better than text. Another point, people appreciate it when the site pages load quickly for no more than three seconds.
If there is enough visual content on the platform and it loads quickly, this is a double victory for the site owner.
However, there is one big «BUT» here! If the images have a large weight and size, they will slow down the page loading speed. This should not be allowed. Another point is when uploading heavy images to the site, the browser will compress them independently. Because of this, the picture may look substandard, which will scare away visitors.
To make the images look professional, you need to compress them yourself into JPEG format, which will be published on the website.
The need for image compression may also be necessary if a person needs to send a picture or several pictures by e-mail, post them on a social network, upload them to a certain site, and not only. In order not to waste time and quickly complete all your tasks, reduce the weight of files in advance.
How to Compress JPEG Images using Watermarkly
If you need to compress JPEG, you can use our online JPG Compressor, which allows you to work with JPEG, GIF, and PNG files at the same time.
A free version of the app is available to each user, where up to ten images can be compressed simultaneously.
You can compress images online in our JPG Compressor. Your actions should be as follows:
Go up the page to the application itself.
Drag the desired images from your computer into the window or click "Select images" to select the appropriate type of file upload: from your computer, from Google Drive, from Google Photo, or Dropbox. In all cases, except for downloading from a computer, the user needs to provide access to their data. There is nothing dangerous in this.
Click "Add Images" if you need to upload more photos. Or "Clear" if there are extra pictures among the uploaded ones. If the first time you downloaded everything you need to compress JPEG, go to the next step.
Click the "Compress image" button and in the "Output setting" window that appears, select the desired quality from the suggested ones:

•

Better Quality

. Our JPG Compressor will do its best to ensure that the image quality is high.

•

Smaller Size

. This item is similar if you just need to reduce the size of the image and the quality does not matter.

•

Specific File Size

. In this case, the user can independently specify the number of kilobytes that the image should weigh after compression.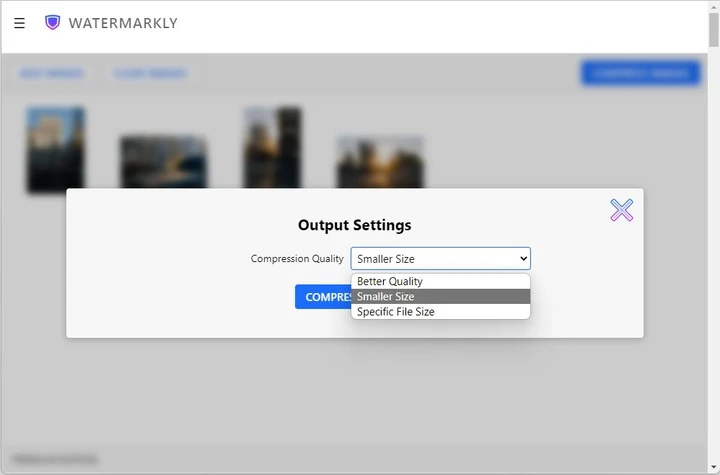 Keep in mind that when choosing Better Quality and Smaller Size, you will know the weight of the image only after you click "Compress images". In the third option, the initial result depends entirely on your actions. That is, a Specific File Size allows you to fully control the final weight of compressed images.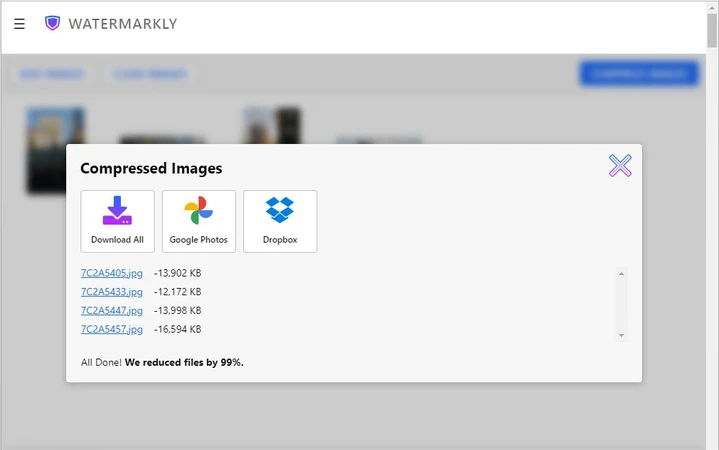 The weight of a file is the number of bytes it occupies in the device's memory. It is important to understand that images with a weight of 7 MB or more are very heavy for websites. And if there are several of them, then the resource will be immersed for a long time, which users will not like.
If you need to reduce the weight of images for publication on the site, save them with a weight of 200 KB. This is the optimal weight, at which even a large number of images will not affect the speed of the resource.
Advantages of Watermarkly JPG Compressor
Our JPG compress tool is a web application in which you can work through a browser on a computer or a mobile phone. The user does not need to download or install the program. Just open the desired tab of our site and start working.
There are no risks of introducing a virus into the computer, complicating the installation process – everything is more than simple!
Other features of our app:
Guarantee of confidentiality of customer data. Our system never stores user data. Images are not saved on servers. We guarantee that none of the company's representatives can access user files.
Quick response to user's actions. To get started, you just need to click on the "Compress images" tab and all. The client does not need to wait in a queue, download files for a long time, or save them to the computer if they are stored on Google Drive. Everything is simple.
Additional features. The capabilities of Watermarkly are not limited to the JPG compressor's function. Users on our site can also add a watermark to pictures for free; crop images into a circle, rectangle, or arbitrary sizes; resize photos; add a logo or text to any pictures.
Frequently Asked Questions about JPEG Compression (FAQ)
Below you will find answers to popular questions that relate to how to compress JPEG and not only.
Does JPEG compression affect image quality?
Yes, it does, because this format is quite fragile and some of the information is lost even during normal editing. However, most JPEG images can be compressed without loss of quality. In this case, the file structure is optimized and the need for storing redundant data is eliminated.
How to reduce the image file size?
If you need to make the file size smaller, use our application for JPG compression online. A convenient web application does not need to be downloaded to a computer or phone. The user needs to add images to a special window and select the save settings. There are three options: Better Quality, Smaller Size, Specific File Size. The latter option allows you to independently determine the weight of the image when saving.
How to compress JPEG for free?
You can compress JPEG online for free on our website using the online tool "Compress". In the free version of the application, you can simultaneously work with 10 photos at once. If you need to compress more than 10 images, you can consider buying upgrades in which the limits are increased. Read more information about updates here.
How to compress JPEG to 200 KB?
To compress JPEG to the weight you need, when working in the Watermarkly app, select Specific File Size in the compression settings. In this case, you will be able to independently specify the desired image weight, which will be obtained when saving the file.
How to compress JPEG on MAC?
To compress images on a MAC, you can install special image editors. However, you can greatly simplify the process by launching our online application. Unlike special programs, image compression can be faster here, and the result will be high. Our program does everything to ensure that compressed images have high quality even with maximum compression.
How to compress a photo without losing quality?
You can easily compress photos without loss in our application, which we told you about above. For minimal quality loss, select the Better Quality option when saving the file so that the system retains the image quality as close as possible to the original one.
How can I reduce the size of a JPG file on my phone?
If you want to reduce the image size using your smartphone, you don't have to search for editors in the Play Market or App Store and install them on your phone. This is especially inconvenient for those users who have limited memory on their phones. After all, to install the application, you need to delete other important programs. There are no problems with Watermarkly. You just open the site in any mobile browser and start working. Our site has a mobile version that is visually similar to the desktop version. All functions are the same as in the computer version. You can upload images from any of the presented repositories, compress photos, add watermarks, crop, and more.
How can I reduce the size of a photo to upload to a website?
You can use online JPG Compressor from Watermarkly for this purpose. Here the compression process lasts as fast as possible. You simply upload the image, select the desired quality and wait until the processing takes place and you can save the image.
Useful Tips on Jpeg Compression for Websites
If you chose Watermarkly for JPEG compression online to reduce the weight of images to be placed on the site, remember the following:
For background images and banners, the maximum file weight should not exceed 1 MB.
For product galleries, portfolios, and other pages, it is better to compress images to a weight of 500-600 KB.
For simple graphics, a weight of 300 KB will be enough.
We have told you about the features of JPEG compression and the work of our web application. We hope that now your tasks to reduce the weight of images will be solved quickly and easily. Work in the application online and do not waste time downloading and installing special editors. With Watermarkly you will get the expected results.