Best Photo Editing Apps For Beginners And Professionals
by

Lina Thorne • Updated · Posted in Photography
To improve the quality, any photo must be edited, regardless of what it was taken with, a professional SLR camera or an old gadget with a poor camera. Colours are added to the photo, errors are removed or retouched.
This is where special photo editing programs called photo editors come in handy. We offer you a wide choice of photo editing apps that can be used by both beginners and professionals.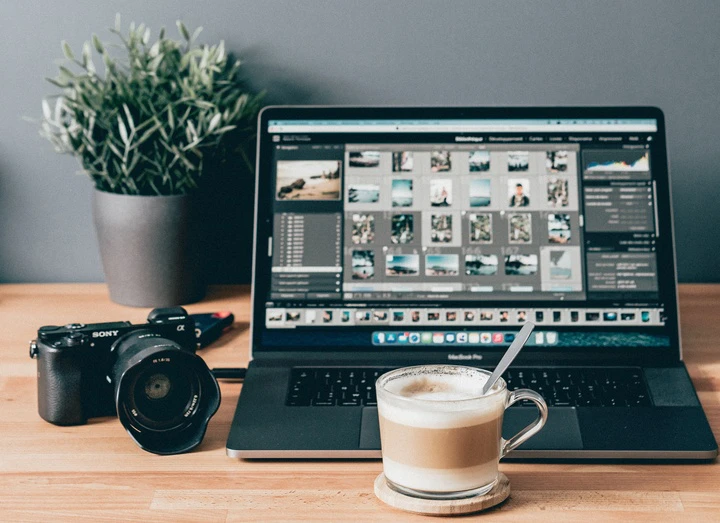 This program is suitable for stationary and mobile devices adapted for iOS and Android. Essentially, Photoshop Express is a stripped down version of the paid photo editing app.
With the help of Adobe Photoshop Express, every beginner or enthusiast on photography can quickly edit amateur photos. In addition, this program can be used as a design tool.
The main advantages of Adobe Photoshop Express are:
ability to add light and colour effects;
creation of correction layers;
use of "smart" filters;
choice of colour correction at your discretion;
use of additional processing brushes and other effects;
selection of sections of a photo by a colour palette;
ability to independently create artistic effects;
adding watermarks.
But like any photo editing app, Adobe Photoshop Express has a number of drawbacks. Among them, we'd highlight a lot of tools that are not necessary for an average user. It freezes when interacting with another program and requires special plug-ins to work with RAW images.
GIMP is a free photo editing app with tons of tools for beginners and professionals. With this program, beginner photographers can enjoy editing, cropping, colour adjustment and automatic image quality optimization.
Professionals can resize images based on content, change facial features, create animated GIFs, masks, layers and all sorts of brushes.
GIMP is an open source program. This means that the platform, which works with stationary and mobile devices, receives regular updates, which has a positive effect on the quality of its functions.
The main advantages of GIMP are:
free download;
ability to use common languages;
support of PDS files;
ability to edit layers;
layers of brightness;
batch photo editing.
But it isn't without drawbacks. To learn how to edit photos with GIMP, you need to know English, plus it has not a very convenient interface and poor functionality for professional photographers.
This is one of the decent photo editing apps for beginners in photography. Originally, the tool was developed by an American student to provide a more efficient alternative to Microsoft Paint. But instead, an effective application with an intuitive interface for a desktop computer came out. It is suitable for those who need free software to edit photos and get high quality results.
The program has a simple design that supports hotkeys. Beginner photographers find it a great tool because the program is simple and easy to understand.
The strong points of the program include:
don't need to be bought;
suitable even for a weak computer;
you can perform basic photo processing;
it is convenient to work with curves and levels;
there is the feature of multi-layer editing;
use of images on a transparent background.
But it is not without drawbacks. The program has a small selection of ready-made effects, there are not enough tools for retouching portraits, and professionals will not be able to perform high-quality photo correction in it.
This is one of the photo editing apps designed for online photo editing at a professional level. In practice, this is one of the best photo editors due to the similarity to the Adobe interface. It also gave reason to consider this program an online analogue of Photoshop.
The program can be used on desktop and mobile devices. But for the full use of the tools you need to download the Flash plugin. To save people the hassle, there is an HTML-based version of Pixlr Editor, which has many editing tools, PSD template support, premium fonts, layers, and stock images.
The main advantages of the service are:
many filters;
a lot of possibilities for adjusting images;
enough tools.
But using the program increases the size of the photo file by several times, and there is no photo hosting of pictures in the program.
Pixlr X is one of the photo edition apps that is a decent free alternative to HTML for Photoshop Express. This application was created specifically to replace the Pixlr Edition in the event of the disappearance of Flash. But creating a platform in HTML requires a significant reduction in the capabilities of the original editing program.
But that hasn't stopped the program from becoming one of the best free photo editing software out there.
A great program with a wide range of features. In fact, this is one of the photo editing apps, with which you can edit and enhance the photo quality with one click. This gives novice photographers an opportunity to turn their ideas into reality.
The program has a lot of filters, frames, brushes, crop shapes and other tools. In practice, this application is made for desktop computers with Windows and MAC OS operating systems.
A fairly good program in our list of photo editing apps, which has a lot of basic tools and options. It is suitable for both novice photographers and professionals. The latter can take advantage of the wrinkle removal feature or teeth whitening function.
Fotor has a lot of effects, frames, stickers and a variety of options for working with text. Basically, many users consider Fotor as a tool for optimizing image quality. The program supports desktop computers and mobile applications for iOS and Android.
This software is one of the photo editing apps designed to enable beginners and professionals to edit photos. To this end, the program has several interfaces.
For experienced photographers, it offers an extensive set of tools that allow users perform more complex tasks. That is, professionals can use brushes, masks, gradients, textures and RAW converters. Each user can make changes to several pictures at once.
Beginners can use a more stripped-down version. That is, this option is designed for automatic editing, with the help of which an excellent result is achieved. Such improvements can be made with filters and various effects that everyone can choose from. The program works with Windows OS.
This program is designed for beginners in photography. This is a decent tool out of all the listed photo editing apps. But in fact, this is a full package that includes the following tools:
Photo Editor, with which you can perform basic image editing;
Photo Maximizer helps to increase the size of photos and improve their quality;
Photo Focus is used to sharpen pictures;
Photo Eraser removes unnecessary volumes in images;
Photo Cutter changes the background;
Photo Clip — everyone can try their hand at photo editing.
This program, adapted for Windows and iOS, is convenient enough for people who are taking the first steps in photo editing to add color to the images, so that relatives and friends appreciate your work.
Another great program from the list of photo edition apps. The application has a simple list of tools for processing photos at a professional level. In addition, its significant advantage is a simple interface, thanks to which you can find the necessary tools.
With the help of such a program, you can process photos before distributing them on social networks. Also, the image can be cropped online with any aspect ratio, reduce the file size or embed a watermark in the photo for protection.
The application is almost free up to a certain number of used photos.
This is a practical software from the same developer as the famous Photoshop. But this photo editing app is designed to edit photos professionally. That is, the program provides the feature of detailed colour correction, lighting adjustment and a lot of filters to instantly change photos.
That is, this program will allow you to:
adjust exposure, light and dark areas in manual mode;
improve the quality of photos, align images, suppress noise;
track time using an integrated calendar;
draw up a portfolio in the form of a book and post the results on the Internet;
create high quality panoramas;
create your own processing presets.
Unfortunately, this application is not free and is only available by subscription. The license costs money, and the tools themselves can be difficult for a beginner photographer.
It's a pretty decent option of all photo editing apps. In the program, there are a lot of standard features for improving images. The application can work with both manual settings and presets, plus it allows you to view a set of photos in the gallery on your PC.
With the help of this program, users can:
correct lens distortion and chromatic aberrations;
quickly find lens boundaries in a photo;
turn panoramic photos into 360-degree volumetric spheres;
process images or specific sections of it;
create simple collages.
But at the same time, the program will not start on a simple computer, you will need at least 4 gigabytes of RAM for the full-fledged work.
In fact, this program is a RAW file converter that works under Windows and MacOS. It can be used as a standalone application or as a plug-in for Adobe Photoshop. It is also perfectly compatible with JPG, PNG, TIFF, and PSD formats.
The main advantages of this photo editing app are:
accurate photo processing;
support for most cameras and lenses;
ability to automatically create masks on an image;
filters with ready-made processing styles with the ability to adjust them to the features of a particular image;
separate settings for each of the sections of the photo.
But this program is not free. Of course, users can try out the features during a trial period of 30 days, but after that, they will have to pay $100. You also need to have a computer with 4 to 8 gigabytes of RAM, it won't work on weaker computers.
---
In conclusion, we'd like to note that the presented list of photo editing programs is suitable for all categories of users. Both professionals and beginners can use them. We hope that everyone will find a suitable option in this list of photo editing apps and use it for its intended purpose.