The Best Logo Makers for Photographers
by

Lina Thorne • Updated · Posted in Photography
If you want to start a business, one of the first things you'll need to do is come up with a name and a logo. Logos are the kings of marketing because they are crucial for brand awareness.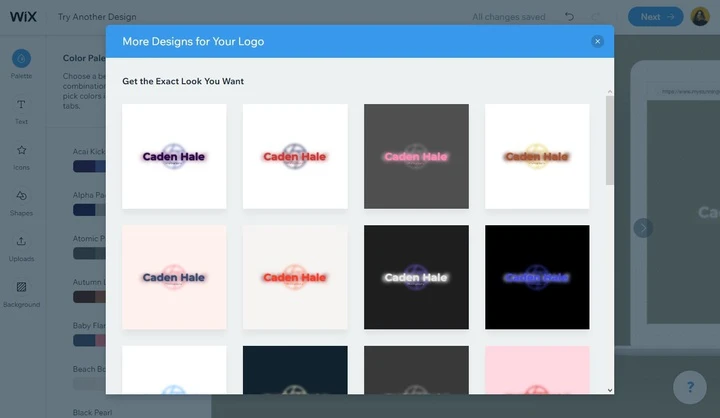 ---

Think about Apple. No, not the fruit. The company. All you see on their products is a bitten apple with a single leaf. There's no name or a monogram. Yet, that's enough for you to instantly recognize their brand. Yes, Apple is a huge, international, widely known company that has been around for years. However, if you forget about that for a second, you'll see that this example shows the true power and importance of a good logo.

---
Since you are a photographer, you probably have some editing skills, but not enough to create a memorable and original logo that's going to encapsulate what your brand is about. You can start without it, of course, but you want to stand out and look professional.
So, what do you do?
The ideal solution is to work with an agency or hire a freelance designer. However, if photography has been merely a hobby of yours and you've just decided to look for clients, you probably won't have the budget for it. Instead, you can use logo makers!
They are easy-to-use, browser-based online tools with the help of which you can create a logo for your brand, then add it to your visual content using our watermarking software, Watermarkly.
Let's dive into the list of the best online logo makers.
---
The Best Logo Makers. TOP 3
The first place belongs to the popular website builder, or, rather, to its remarkable logo maker that has a great level of customizability and uncluttered, intuitive interface. Wix will be of great use to those who want to design an attention-grabbing logo easily while enjoying just the right amount of creative freedom in the process.
---

Before you get to editing, you need: 1. to log in or sign up 2. to enter your brand name and tagline 3. to select your industry 4. to pick a few words that resonate with your brand, but it is possible to skip this step.

---
For the app to figure out what you like, you'll be asked to choose one of two logos. You'll have to go through 5 pairs before Wix moves on to generating some professional-looking templates.
What's great about Wix's logo maker?
It is possible to add your own visual content to your logo.
In the Uploads section, you can upload an image from your computer, cloud storage, or even social media. Then you can edit your uploaded image in the Photo Studio – for instance, crop it – and add it to your logo. Isn't that amazing? If utilized properly, this feature has the potential to make your logo truly stand out.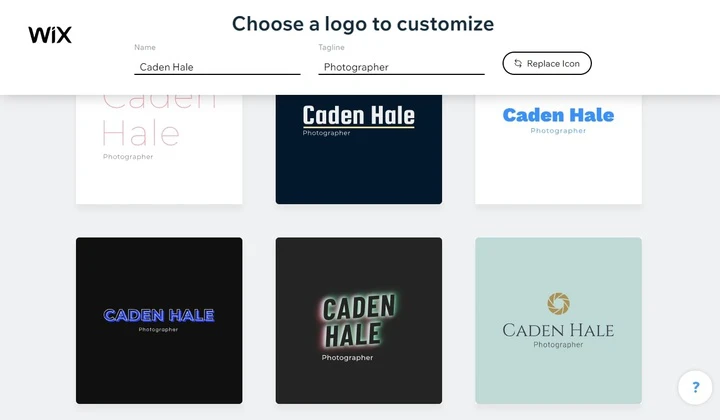 Wix's logo maker allows you to:
pick a font or an icon from vast and diverse collections
choose a different color or hue in the color picker or by entering the HEX number
adjust the opacity, outline width, and letter spacing
change the size
flip an element horizontally or vertically
add a blur or a shadow
In addition to that, the app has a broad choice of palettes, which will speed up the editing process. After all, these cohesive palettes with fancy names like Silver Glow, Smart Casual, or Super Ruby consist of colors that look harmonious and complement each other perfectly. Nevertheless, it is still possible to tweak the hue of a logo element, after you chose a certain palette.
When you go to checkout, you will need to choose whether you want to get a website and a logo, or just the logo. If you go with the second option, you'll see two packages: Basic for $20 and Advanced for $50. Both include full commercial usage rights, however, only Advanced includes SVG logos.
---
This app will grant you total control over the process of designing your logo because you'll have to do everything from scratch.
You'll have a lot of flexibility and customizability to achieve a more personalized and original result, but there's going to be a learning curve for you to endure. Don't get intimidated just yet, though. Logo Makr provides all the crucial information that will help you master it quickly.
For example, if you aren't sure what a button is for, place your cursor over it to see its name. Also, a few video tutorials – how to get started, edit templates, work with shapes, etc – are hidden behind the blue "Design Templates" button at the bottom.
With Logo Makr, you can:
add regular or curved text
select its alignment
pick a font from a large collection that's divided into categories
adjust the line width and height
tweak letter spacing and word spacing; the latter option is quite rare since most logo makers offer only the adjustment of letter spacing.
enable the "Fixed size" feature, which allows you to set a certain size.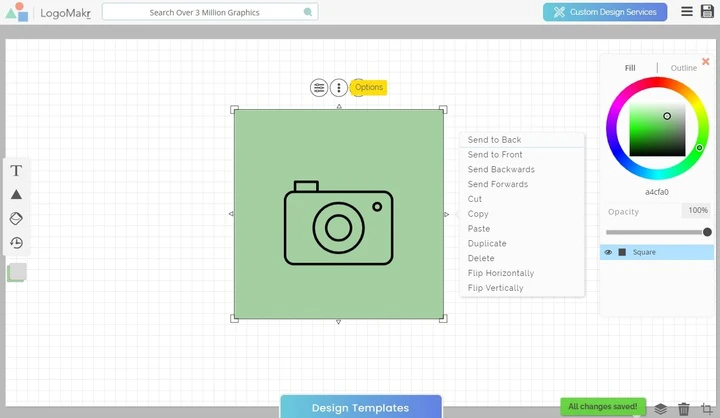 All of these options – except for alignment – are adjusted either by toggling a slider or entering a number of pixels.
---

On the right side of the app, you'll find the color picker, which gives you the option to change the fill color as well as the outline. If you know the HEX code of the required color, you can enter it under the color wheel. Logo Makr has a selection of several shapes – circle, square, triangle, ring, star, etc – and aside from them, you can also add graphics.

---
The app has over 5 million of graphic elements!
Logo elements can be layered on top of each other, duplicated, rotated, and flipped. All the changes you make are auto-saved, so you won't have to worry about losing your progress by accident.
To get full license ownership and high-resolution files both in PNG and SVG, you need to choose one of 3 packages: one design - $29, 4 design - $60, or 15 designs - $150.
---
The third place goes to the logo maker that offers a great deal of user-friendliness and allows you to create a nice-looking logo in a short amount of time with minimum editing skills.
After you open the app, you won't have to answer any questions or enter your brand name. Instead, the exciting selection of logo templates for different business fields will unravel; and you'll have to pick one to get started.
---

DesignEvo logo allows you to mark a template as your favorite, see an array of similar-looking logos, and use keywords to narrow down the search.

---
The editing space has differently colored, guiding lines to help you line up your elements with each other or place them exactly in the middle of your logo. You can also turn the grid on. In the "Color" section, among the offered options, you will see white circles with "+" in the center. By clicking on one of them you will be able to pick an entirely different color or hue as well as create a new gradient or fine-tune the selected one.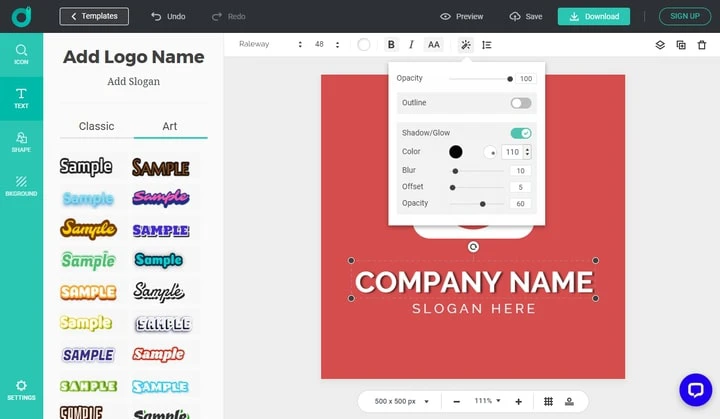 ---

One of the key advantages of DesignEvo is that nearly all the given options are separated into categories, so you could easily and quickly find what you need. For example, the "Icons" section that consists of thousands of various icons is divided into such categories as "Heart", "Instagram", "Camera", "Line", etc.

---
In the "Text" section, you'll see two tabs:
Classic, which contains more commonly used, standard fonts of different styles.
Art, which has a limited selection of funky, trendy, and vividly colorful options.
It's worth mentioning that DesignEvo logo maker offers a decent, yet somewhat mediocre choice of fonts. That said, if you're not after anything too wildly unique, you'll surely be able to find something that suits your needs.
There are two options for one-time purchases: $24.99 for high-resolution PNG and JPG files, but without copyright ownership, or $49.99 package that includes all the legal rights and vector files. Both packages allow you to edit and re-download your logo.
---
Also Great Logo Makers
Before you get to the editing stage, you need to provide your brand name and slogan, enter a few keywords that describe your brand and choose a color style.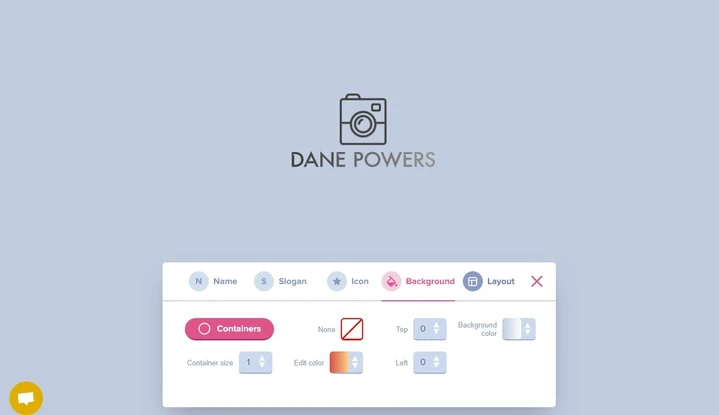 What's great about Brandmark?
It tends to generate beautiful and stylish templates that don't really require a lot of customization. It's worth noting that this app has an amazing feature that can speed up the editing process and save up your creative juices. The "Ideas" button allows you to see a generated logo template in various colors schemes, with different fonts, icons, and layouts.
---

Brandmark logo maker has a great choice of photography-related graphics and the feature of showing you suggested icons. You can choose a solid color or a gradient, then fine-tune it in the color-picker.

---
However, this app doesn't offer the ability to add any shapes, and the choice of containers isn't particularly big, so if you want a logo that has a lot of different elements, Brandmark might not be for you.
Another notable downside is that you cannot select or drag elements of your logo with the cursor. If you want to edit an element, you need to go to the "Name", "Slogan" or "Icon" section. And if you want to change the position of an element, you need to adjust the sliders: "Left" and "Top". This might be an inconvenience to those who are used to working in editing software like Photoshop where you can drag everything easily.
Brandmark offers three options: Basic - $25, Designer - $65 and Enterprise - $175.
Designer seems to be the optimal choice as Basic includes only Logo in PNG format.
---
This logo maker may be hilariously simple to use thanks to its straightforward interface, but it produces bold and memorable logos in just a few clicks. You don't need to provide much info to get started: just enter your brand's name, pick an industry and you're good to go.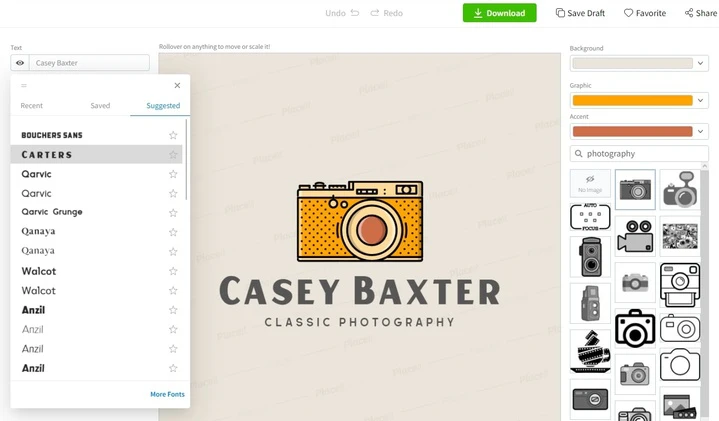 Placeit offers vividly colorful logos with modern, hip graphics. However, the selection of templates for photography is rather limited. Therefore, you can end up with a logo that looks like your competitor's, which may lead to some copyright issues.
However, according to their website, templates are endlessly customizable, so it is possible to turn a generated logo into something else entirely.
---

What really stands out about this app is the immense variety of well-designed, peculiar-looking options. The library of fonts is jaw-droppingly enormous; it might even be the largest one among the other apps on this list. It's hidden under "More fonts" and everything is grouped into categories.

---
The second-best thing about Placeit logo maker is its icons.
Most logo makers offer average and borderline hackneyed options that tend to look the same, whereas here, you'll see icons that you won't find in any other app: some are a bit more 3-dimensional and fancy, others appear to be quite quirky and whimsical. Plus, it's worth noting that you can add more than just one graphic to any logo template.
---

Despite the fact that Placeit requires absolutely no editing skills, it would've been great to have a support chat to be able to reach out right away, if you ran into an issue.

---
You can purchase only the logo you designed for $39.95 or get their unlimited subscription: $14.95 per month or $89.69 per year.
---
Canva is a popular platform for creating posters, resumes, and a lot of other things, including logos. Here you won't have to answer any questions beforehand, but you'll need to type in "Photography logo" in the search bar to look for photography-related logo templates.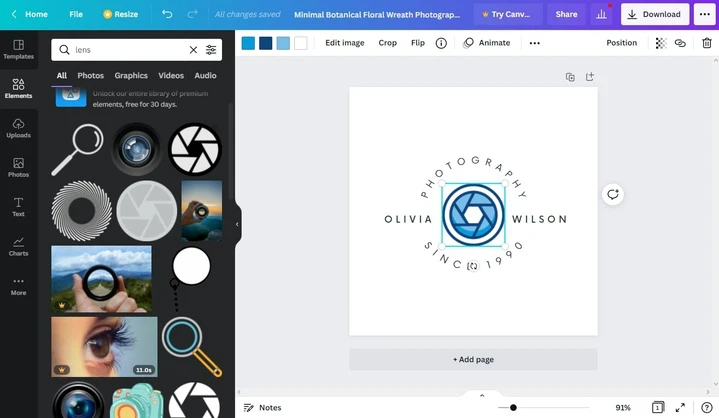 Canva allows you to change the placement of every logo element, pick a different color of any shade or hue, add a new string of text or a font combination.
You're not limited to adding only icons or shapes here, although there is a great variety of them.
The "Elements" section contains:
different graphics
photos or videos
charts
tables
frames
grids
You can upload your own photos and videos, as well! Any of these elements have the potential to make your logo look vibrant, fresh and introduce a touch of novelty.
---

One of the greatest benefits of Canva is that it's not just for making logos. It might come in handy to create all kinds of promotional materials. For example, you can design some infographics, to post on Instagram. Also, you will be able to download your logo for free in PNG or in JPG, but only in a small size. This app has a truly impressive variety of options to offer.

---
However, you'll have to buy the Pro version to unlock its true potential, since the majority of templates, icons, fonts, and other elements are available only if you upgrade.
You can get Canva Pro for $12.99 per month or $119.99 per year.
---
Creating a logo in this app also starts with entering your brand name, selecting your business field, then picking some colors and symbols your logo should include. You need to sign up or log in to see the generated logos that are grouped into categories: Modern, Classic, Sophisticated, Script, Friendly, and a few others.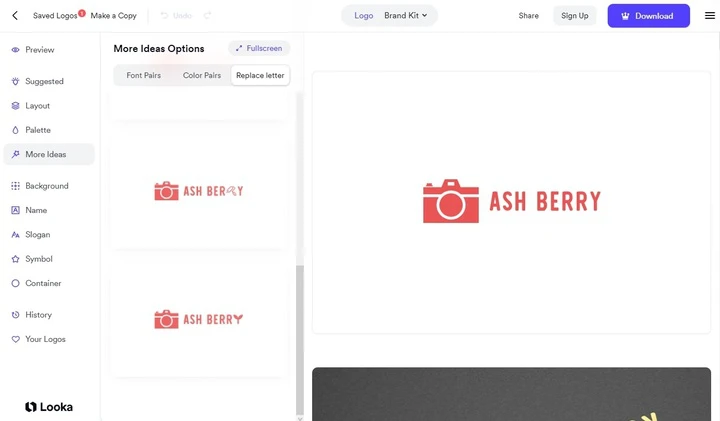 Looka has a useful feature of viewing options in full screen mode.
When you open a section in the toolbar, you'll see a list of fonts, icons, etc. By clicking on the "Fullscreen" button you'll be able to view all the options on your entire screen.
Among layouts, you'll find not only those that include the elements that are already a part of the chosen template, but also those that have new elements. For example, you might see a layout with an icon, even though your template contains only text. "More ideas" offers a striking variety of font and color pairings, while the letter replacement group will be of use if you want one letter of your text to look different or be replaced with a graphic.
---

What makes Looka different from the other apps on this list is that it offers an option of adding not only icons and containers but also monograms. It also has the "History" feature, which allows you to look through all the changes you have made and roll back if necessary.

---
Here are the prices: Basic Logo Package - $20, Premium Logo Package - $65, Brand Kit Subscription - $96 per year, or Brand Kit Web Subscription - $192 per year.
---
This online marketplace for freelance services also has a logo-making tool.
First, you have to give the app some basic information about your brand and what your logo should be like. While looking through the generated results, you'll see the words "5 variations" or "3 variations" under templates. It means that there are similar, yet slightly different versions of a logo. You need to simply click on a template to see its variations.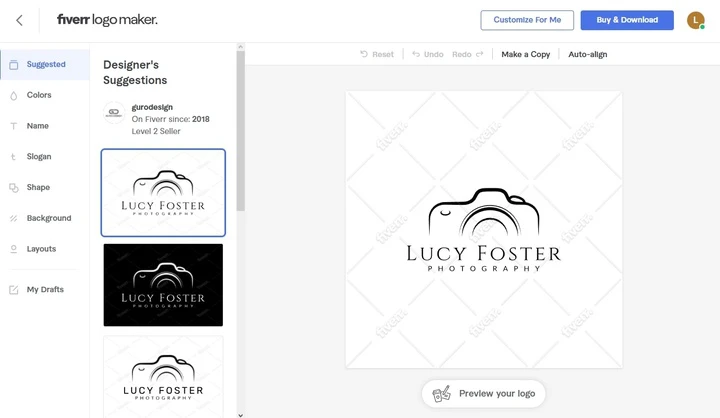 Among other necessary tools, Fiverr provides 10 layout options and allows you to add a shape of a square or a circle as well as to adjust the position of any element by dragging it with your cursor or by using the sliders.
The background can be of any color you want or turned into a transparent one.
---

The peculiar aspect of this logo maker is that by clicking on "Make a copy", you'll duplicate a variation of your logo. All the variations are saved to "My Drafts". This can be extremely useful, in case you realize that one of the versions was better than the current one, but you've made too many adjustments and changes to roll back in an instant.

---
Also, the "Customize for me" button allows you to hire a freelancer who designed the template of your choice, then he or she will customize it for you. This can be the best of both worlds, because, in most cases, it won't be obscenely expensive, all the heavy lifting will be done for you, and you'll be able to get a more or less unique logo.
If you are happy with the logo that you created, click on "Buy & Download", and choose between "Professional" package for $60 and "Essential" package for $30.
---
The designing process also starts with providing your brand name, choosing whether you offer physical goods, service, or original content, selecting your industry, briefly describing what your business is about, and finally, picking a logo type: Icon based, Name based or Initial based.
To see the generated templates, you'll have to sign up or log in first. But having an account will also grant you the ability to save your favorite templates and check them in the "Saved" section.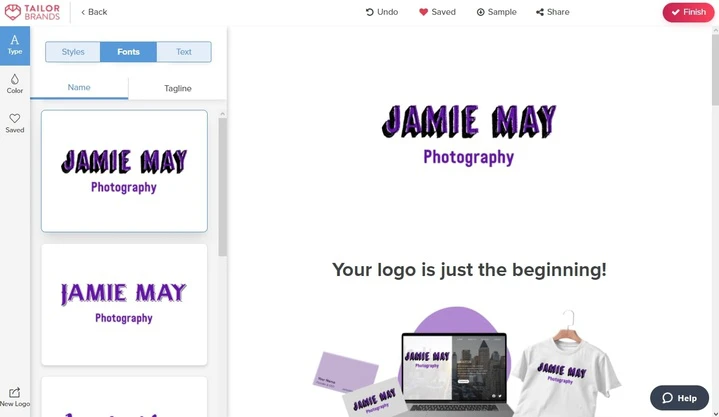 Tailorbrands offers all the basic editing tools that you'll find in the majority of the apps on this list.
You can:
pick a different layout or font
add a shape
choose one of the color schemes
change the color of each element individually.
---

Unfortunately, this app has the same disadvantage as Brandmark: you cannot select or drag elements of your logo using your cursor. The "Icon" section allows you to edit your icon, while all the modifications to your text are done in "Type". Another downside of Tailorbrands is a rather scant choice of fonts. It is possible to find something interesting, but you'll have to really dig for it.

---
This app is easy to master and has some beautiful, professional-looking logo templates, but you need to keep in mind that the level of customizability is slightly below average.
To download your logo, you'll need to buy one of their plans: Basic - $3.99 per month, Standard - $5.99 per month, Premium - $12.99 per month.
---
Hopefully, now you have a better understanding of what to expect from online logo makers and the results they can produce.
You don't really need to have a big budget or advanced graphic design skills to create a beautiful logo that's going to communicate what your brand is about. Especially, if your journey of turning your hobby into a business has just begun.
If you'd like to crop your images before publishing them on your social media, you can try our free, online cropping tool.