How to Add Text to a Photo Online with Watermarkly
Use our "Add text" app on this page to add text to a single image. Scroll to the top of the page, back to the app window and follow these steps:
Import an image from your device or cloud storage. Your files can be dragged from a folder and dropped into the app. It is also possible to click on "Select Image" and choose one of the featured options. Your image will be uploaded in a second.
Select the item - "Add Text" or "Add Logo" to proceed.
Use the toolkit to design your text or logo. Select a font. Our app includes a vastly varied library of around 926 fonts for you to choose from. Please note that the availability of fonts depends on the language that you want to use for your text. Pick a color. The color wheel in our app grants you the opportunity to choose any shade and hue of any color. You can also type in the HEX color code, if you know it, in the input area to get the exact color you want. Resize. Make your text as large or as small as you want. Rotate text. Your string of text can be positioned diagonally, vertically, or even upside down. The angle of rotation can be changed by toggling the slider or by double clicking on the indicator of the degree and entering any number from 0 to 360. Add an effect. Our app offers over 20 effects that you can use to jazz up your text or logo – try out all of them and see which one fits better. For example, you can add a shadow effect to make your text more prominent and subtly separated from a light-colored background.
Click Save Image. The processed copy will be downloaded to your device in an instant.
Our online tool, Watermarkly "Add text to photo" allows you to add text of any size to your picture in a few minutes.
Advantages of the Watermarkly Web App
With our online app, you'll be able to add text to a photo on iPhone and Android devices, Mac, and Windows computers. It is a mighty, yet uncomplicated tool that anyone can use. You don't need to enter your email or phone number to get started. The app works online in your browser, so you won't have to install any software or plugins.
Working with Watermarkly is as simple, fast, and convenient as possible!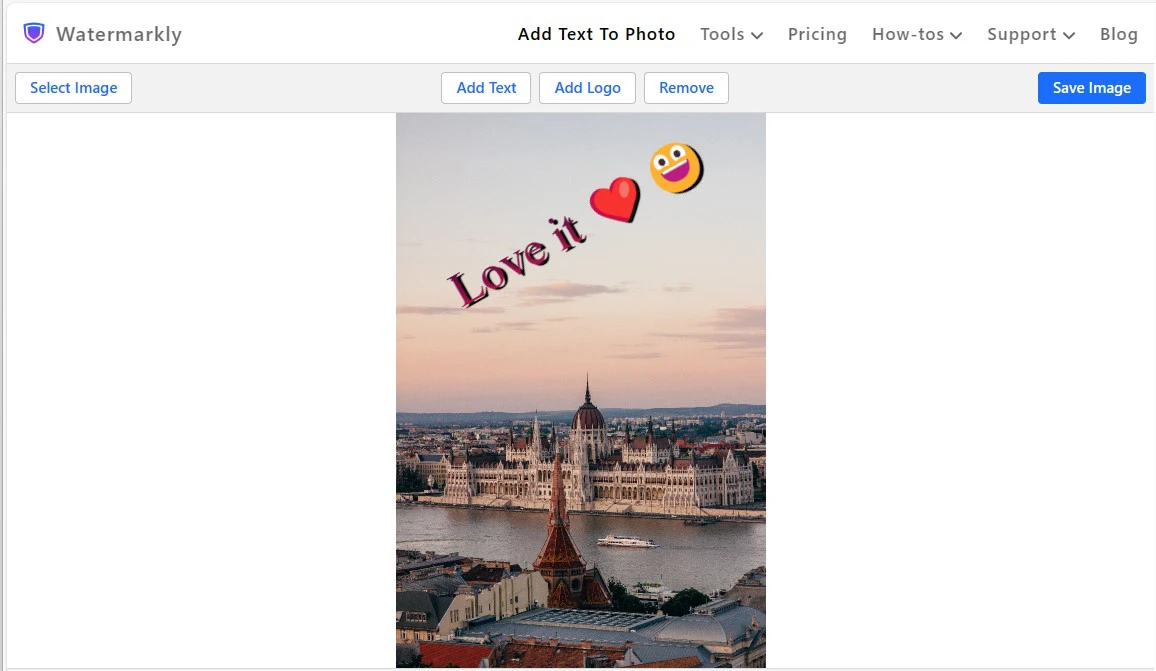 People choose our online tools because:
Watermarkly guarantees the safety and security of users' data and files.
We do not store copies of your images on our servers. We don't have access to any of your files. We do not ask for any confidential information. Your privacy will never be violated.
Working in Watermarkly is fast.
You can add text to photo online in any place, where there's internet. Your images will instantly be uploaded and exported. Editing process will also be free of any lagging. If you have a previously designed template, then the entire process of adding text or logo to 10 photos will take you only a couple of minutes.
Watermarkly can be installed as a standalone app on your smartphone.
If you don't want to work in a browser on your phone, you can download our watermarking app in App Store or Play Market. Please note that the rest of our online tools, like "Add Text to Photo" or "Crop Image" are available only on our website and work in a browser. But if you want to add text or logo to several photos, our watermarking app will be the perfect choice for you.
Watermarkly won't take up much space on your device.
And our web tools will barely take any space at all, since they work in your browser! It means that you can start right away. However, you will still need to have some space in your memory to save the processed images.
FAQ
If you have any questions, you can contact our support team. However, we recommend checking out the information provided below, in case the answer to your question has already been given.
Is it true that you can add text to a photo for free in your app?
Yes, it is. You can see for yourself! Scroll back to the top of the page and upload a photo into the app, then add a string of text or logo and design them with the help of our editing toolkit. You won't have to register or buy a subscription to either use any of the tools or download the final result.
How to add text to an image on iPhone using Watermarkly?
You have two options. The first option is to download our watermarking mobile app for iPhone through the App Store. This will allow you to process up to 10 images in one go. The second option is to use our free online tool "Add text to photo", which works in a browser. However, the batch processing feature is missing in it – you will be able to work with only one image at a time. If your phone does not have enough memory to install an app, you can use the tool on our website.
How do I add text to a JPEG image?
Our web app allows you to upload images in any format, including JPEG. Just import them from a folder on your device or from Google Drive/Google Photos/ Dropbox. Moreover, it is possible to upload an image of a different format and then export it as JPEG.
Which app is the best to add text to an image?
It entirely depends on your needs. Before you begin your search, we recommend asking yourself the following questions:
What do you want your text to look like? Do you want to make your text 3D or add any other complex effects? Does it have to wow people? If the answer is yes, then you'll definitely need a professional editing software like Photoshop. However, if you want simple and effective results, and you don't have any editing skills, then our app might be a good choice.
Do you want to work online or offline? Do you want to install anything? Our app allows you to add text to photo online, so it's crucial that you have the internet connection. But if you don't want to rely on the Internet all the time – if you want to have a bit more flexibility – then you might opt for a standalone mobile app or offline, desktop software.
These questions will surely narrow down your search.
Most importantly, you should explore and try out all the features of different applications. For example, you can start with Watermarkly!
Summing Up
Adding some text to your image can be something that will set your visual content apart from others by sending a certain message, inspiring people, or briefly presenting the gist of the accompanying caption. As a content creator, it is your job to decide what you want to write on your image. The design of the text, on the other hand, will depend not only on your taste and creativity, but also on what editing tools you're using. After all, your broad imagination might be limited by scanty capabilities of an app.
With our app, you can design your text and add it to your images before publishing them on social networks or websites, inserting them into slides of your presentations, and so on. Take a look at all the tools and features listed above.